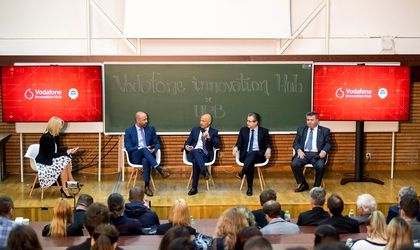 Vodafone continues to invest in "things that matter for Romania", as stated by Achilleas Kanaris, CEO of Vodafone Romania, at the inauguration of the first center of excellence within the Politehnica University, the Vodafone Innovation Hub. Achilleas Kanaris emphasized the importance of digital education in the message addressed to the authorities in our country and showed that Vodafone has many initiatives to support education.
"I really believe that Romania has the chance, in the 5G era, to become an innovation center in Europe. And I hope that this innovation hub (Vodafone Innovation Hub – n. ed.) will be at the heart of this new initiative. And also for the state, my message is that Vodafone continues and will continue to invest in the things that matter for Romania. We believe that education really matters for the country. There are many types of problems in society that are prioritized in different countries. We believe that, for Romania, education is probably the most important topic that we have to address. So is access to education and access to digital education. So we will continue to do so. The opening of this hub is one of the many initiatives we have," said Achilleas Kanaris.
The Vodafone Innovation Hub is a multidisciplinary digital incubator for research, development and innovation in the focus areas of 5G/6G, IoT/IoE, AI, MPN, Open RAN, Edge Computing and Robotics. The objective of the hub is to give UPB students and teachers access to innovative technologies and digital solutions with which they can develop their research projects at the highest level.
Among the most important technologies and state-of-the-art equipment made available by Vodafone are: a 5G New Radio and NB-IoT network, advanced sensors for medical applications or smart environment, IoT and 5G development systems, intelligence algorithms artificial intelligence (AI) with edge processing used in telecommunications, IoT applications, image and sound data processing, as well as UAVs (unmanned aerial vehicles), digital twin solutions based on augmented/virtual reality ( AR/VR/XR), Software Defined Radio (SDR) open communications systems, robotics, nanosatellites, space shuttles, 3D printing technologies and advanced virtualized cloud platforms.
The inauguration of the Vodafone Innovation Hub center of excellence is part of the Memorandum of Collaboration between Vodafone and UPB, for investments in the development of digitization programs, research, innovation and technological transfer.
"In the 25 years since Vodafone has been present in Romania, we have not stopped investing in society and in education through projects that we have supported, through innovation and technology, through strong partnerships like this one. We live in a dynamic world, technology evolves at a fast pace, and Vodafone's role is to invest in tomorrow's generation. The laboratory inaugurated today is more than a strategic investment, is a guarantee that the best specialists can provide continuous education and train new professionals. The Polytechnic is one of the centers of excellence that helps Romania stay at the top of the rankings in terms of IoT, AI, Open RAN and technologies of the future, and Vodafone is one of the biggest promoters of Romania's digitalization", said Achilleas Kanaris.
"The Polytechnic University of Bucharest is recognized as one of the most important trainers of highly specialized engineers in the region, a position that makes our graduates highly sought after by large employing companies. It is a privileged position that would not have been possible without partners dedicated to education, research and digitization, such as Vodafone Romania. Through this partnership, the company encourages innovation and professional development and reinforces our shared goals of staying at the cutting edge of innovation and providing students, masters and PhD students with access to cutting-edge technologies and advanced digital solutions that help them develop their projects at the highest level", said Mihnea Costoiu, rector of the Politehnica University of Bucharest, present at the event.
"One of the biggest lessons I learned at least from UK and US schools was how closely industry works with academia to create innovation. And if there's one thing I learned, especially from my years in Boston, it was this: if industry and universities come together, you can create magic. But that magic is created by you, so please use it," Kanaris further stated.
The head of Vodafone told the students that he expects them to come and work in the company after completing their studies.
"The second message I'm giving you is this, and it's more of a marketing message for human resources. Vodafone is a fantastic place to work. And we invite you all to come and work with us. The world is evolving, and we are an ever-evolving technology company. And we have great career opportunities. And I think that this innovation center could be the beginning of a relationship with Vodafone," the Vodafone CEO pointed out.