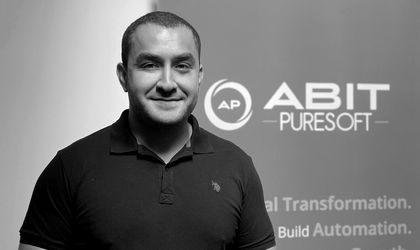 In any industry, automation brings with it the benefits of higher productivity and lower expenses. Automation has become such an intrinsic element of internal and external procedures for organizations all around the world that it is impossible to imagine one without the other.
Those who have seen the trend ahead of time have already started businesses that can tap these opportunities in the market. A good example is ABIT Puresoft, whose founder, Alexandru Banica, was able to predict this wave of technologies emerging for businesses around the world and has been one of the first Romanian entrepreneurs to make steps in the direction of automation: "ABIT Puresoft was founded in 2017, with a workforce of only three people and its "headquarters" in a Bucharest apartment. Our mission statement was clear even at those early stages: Grow a strong team of professional consultants who can guide customers navigate the meandering road to digital transformation and automation safely and successfully."
Quality tailored services, provided competitively from the heart of Romania
ABIT Puresoft is a Romanian software development company, headquartered in Bucharest. ABIT Puresoft specializes in offering quality tailored services on the ServiceNow and UiPath platforms for customers worldwide. Working on a wide variety of implementations, integrations, enhancements, maintenance, and support projects, the company delivers services to medium and large organizations. It has the capability to fully support and deliver end-to-end projects , internationally.
What sets ABIT Puresoft apart from its competition is the ability to provide the flexibility and loyalty of a small service provider with the know-how and capacity of the larger players on the market. This is achieved through their team, which takes on multiple roles – consultants, architects, developers, testers, and project managers. "Another edge we have is our main location, Romania, which has a greater pool of well-trained IT professionals, compared to other countries, enabling us to provide top quality services at competitive prices."
Compared to large corporation-style providers, ABIT Puresoft employees have a much closer relationship with each other and can collaborate on problems much more efficiently. This allows the customers to tap into a much deeper pool of knowledge and ideas for improvement, which ultimately translates into faster and more robust implementations. Whereas a corporation would generally dictate the pace and structure of development to a customer (sometimes mislabelled as "best practices"), the company prefers to listen to customers and offer them the flexibility each organization needs when running a project. An organization rarely has the spare resources required to run projects and that most of the times, it's the operational people who need to get involved and wear "the additional hats" to fulfil a new project's goal.
These are the factors that have helped the company gain clients' trust in over 20 countries across sectors like manufacturing, healthcare, automotive, finance, telecommunication, insurance, retail, tourism, energy & utilities.
ServiceNow, the solution for IT professionals wanting to develop a career
ServiceNow is a trending platform, and more and more specialists are moving towards it. Automation plays an increasingly important role for most organizations, both for increasing productivity among employees and for streamlining various processes and applications; In this sense, the ServiceNow platform has become very popular, sought after by large companies, but also by professionals who want to develop a career in this area.
ABIT Puresoft finds specialists through various job boards – LinkedIn, Hipo, eJobs, Bestjobs – with direct and targeted search on LinkedIn, using various techniques, filters, boolean search etc. "This is one of the best ways to attract passive candidates (people who may not be looking for a job, but are open to the right opportunity), which make up 70% of the global workforce. We also rely on employee's recommendations, employment agencies and existing partners to attract candidates."
A harsh lesson in employee retention from the pandemic
One important lesson taken from 2020 is the importance of recognizing its employees. If companies made it through last year, it was because of the hard work and dedication of their people. Their knowledge, skills and experience cannot be easily replaced. "We started ABIT Puresoft with the idea of making business processes more efficient by eliminating redundancies and improving workflows. Our employees believe in this goal and treat every project as if it were implemented in their own company," says Mr. Banica.
At ABIT Puresoft, the salary is known to have a short-term significant effect on motivation.  So they make sure that all their employees are more than comfortable in this regard, with higher-than-average wages and multiple raises per year for those who perform.
However, the importance the company places on its employees is demonstrated by the investment in training and certification, which is expected to increase year after year. . The company also provides growth opportunities for our developers in Research & Development, where ABIT Puresoft has joined forces with other companies to develop new products complementing ServiceNow, focused on security, asset management, and general automation.
Using the capital for future certifications
According to Alexandru Banica, what clients need in most cases is a partner that specializes in automation and understands their business, processes, and tools. The digitalization process takes time, so the clients must see it as a time investment. Clients should clearly define their existing processes, identify what works and what doesn't, and think about what they want to achieve.
"When we start a project, we organize workshops to get a clear picture of what the client wants. We then choose one or more ServiceNow suites that best match their needs and adapt the internal processes to them (IT Service Management, IT Operation Management, HR, IT Business Management, Customer Service Management, etc). The benefits, which include speeding up the approval process, increased employee satisfaction, implementing a user-friendly interface, with information just one click away, convince customers to automate other areas as well," explains Alexandru Banica.
"In terms of expansion, we are currently not planning any acquisitions; our focus is on growing our team's expertise and diversifying the services we offer. This is more aligned with the idea of organic growth, where expertise breeds success. And this is what enabled us to recently open a new office in Germany, which contributes to the company's footprint in the region."
The company managed to double its turnover in 2020, reaching EUR 1.3 million, compared with EUR 586K in 2019. We are expecting another 100% growth in 2021, as" this has been the trend so far – it has doubled every year. It remains to be seen whether the team will double as well, because we want to have an organic, healthy growth. We want to use our capital for certifications, to invest more money in people working at ABIT Puresoft and to acquire more projects this year".