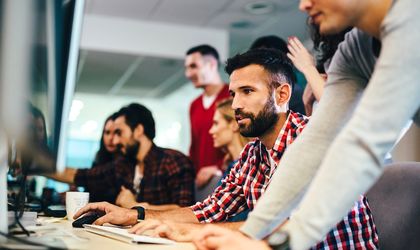 The IT industry is in full swing in Romania and the deficit of specialised IT workforce, estimated at over 15,000 employees per year, is pushing companies to expand to every IT centre they can find. While centres like Cluj, Timisoara and Iasi have been stretched to their limits, many companies are opening offices in or around Bucharest in order to find more people.
Cognizant Softvision, a global leader in product engineering, organised the 2019 Programmers' Week Conference, one of Romania's largest technology events in Bucharest last month. Activities included four days of technology discussions, the 256 Conference and the largest Coding Contest organised in the country to date. The first edition of the event took place 5 years ago in Romania, and last year Programmers' Week was available to Cognizant Softvision associates around the globe. 
"We live in an era where technology is business, and business is technology," said Alin Turcu, Mobile and Artificial Intelligence Community Manager at Cognizant Softvision. "We are pleased to create a bridge between the business and technology communities to encourage innovation and generate ideas that transform not only businesses, but society as a whole.  Through Programmers' Week, we're offering developers the opportunity to hear from some of the best and brightest while challenging them to create groundbreaking solutions that use some of today's most sought after technologies." 
Softvision is a software company founded by Romanian entrepreneur Laurentiu Russo in 1994 and bought by US-based Cognizant last year in a transaction valued by Reuters at USD 550 million. Romania has become a major hub of Cognizant Softvision's global network of more than 3,000 product, design and engineering professionals in 30 studios across 9 countries on five continents. Cognizant reported USD 16.13 billion in revenue in 2018.
The merger of Softvision and Cognizant has created one of the world's top digital engineering companies and a leader in software product development. The new company brand was officially launched in August at Untold, an annual European music festival which attracted more than 350,000 participants this year. As Untold's 2019 "Innovation Sponsor," Cognizant Softvision showcased its brand and capabilities to attendees by designing the festival's smart assistant info point chatbot. 
"Romania is a hotbed of digital innovation with some of the best design and engineering talent anywhere," said Malcolm Frank, President, Cognizant Digital Business. "Our expansion continues to enhance our reputation for quality, sustainability and healthy business development over the last two decades. We're building some of the most engaging software products for the world's leading companies. We have helped transform the ways companies conceive, develop and pursue business outcomes through software.  Here, the smartest engineers can take on their next big challenge and grow their careers while working on transformative projects for many industries."
The company is expanding its Romania operations to meet demand for its digital development and transformation solutions used by leading companies in financial services, insurance, retail and travel, and other sectors. At least 500 new positions were added for creative technologist roles and are expected to be filled by the end of the year. With approximately 1,700 employees now in Romania, Cognizant is already recognized as one of the country's leading technology employers, ranking 19th among the top 100 employers in July 2019, across all industries.
In addition to new jobs, Cognizant's digital engineering division plans to open design studios in key metropolitan centres like Bucharest, Iasi and Timisoara. The US company is ranked 193rd in the Fortune 500 and is listed among the most admired companies in the world.