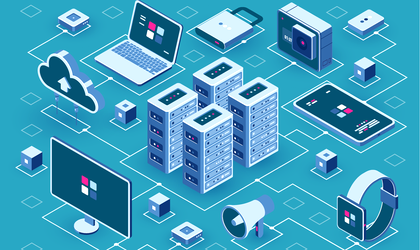 As the on-premises option begins to experience a decline in popularity among IT Service Management providers – who are increasingly shifting to the cloud – ABIT Puresoft is pleased to introduce the Scandinavian SaaS platform Efecte's on-premises deployment option, also known as "Cloud on your own terms".
On-prem is still the go-to option for small and medium-sized enterprises, as well as for the public sector, because it is simpler to manage, offers better control, and comes with a traditional perpetual/one-time pricing model. Furthermore, on-premises applications are reliable and potentially more secure, allowing businesses to maintain a level of control that the cloud often cannot.
Efecte offers a solution for the variety of needs on the market. With no differences in feature capabilities, Efecte has two deployment options: Efecte Cloud and Private Cloud, aka "Cloud on your own terms". The latter can be deployed on-premises, in the client's own data center, or any other data center such as AWS, Azure, Google Cloud etc.
Efecte has achieved the ISO/ IEC 27001:2013 certification, the international standard for information security management systems. It is certified for 19 ITIL (Information Technology Infrastructure Library) processes by Serview, which means that the company follows best practices for delivering IT services. Efecte can be easily deployed and used immediately with 19 available (Out of the Box) ITIL processes.
Regardless of environment, companies need a scalable Service Management infrastructure to digitalize and automate their IT and enterprise services. Efecte SaaS platform offers a scalable solution, with features that include HR Service Management, Contract Management, Project Management, automated identity and access management, artificial intelligence, and easy integration with other technologies.
Efecte also offers a fully integrated Kanban board functionality for any process, allowing anything from IT to enterprise services or even the CMDB to be viewed from a new angle. Users can create a Kanban board view from any information managed within Efecte's service management tool.
To learn more about Cloud on your own terms and other Efecte productivity benefits, contact ABIT Puresoft.