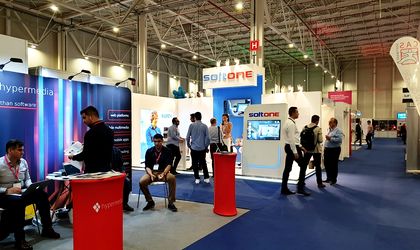 The first day of Internet & Mobile World (IMWorld) 2018 ended on a common, yet very general and rich subject: the digitalization of every business process, even when it comes to security. The event brought together 5,000 companies, 140 exhibitors and estimates over 10,000 visitors. The 7th edition of the event organized by Universum Events is structured as a Business-2-Business (B2B) exhibition with seven interactive scenes and eight exhibition areas.
Mihai Cima, managing partner at Universum Events, opened the event with a speech that underlined "the importance of IMWorld on the IT map of the world". Along him, Miroslav Majoros, CEO at Telekom Romania, the main partner of IMWorld, expressed the company's strong commitment to offer digital solutions for everyone in Romania.
Telekom Romania is also the company that won the state's main project in digitalization – the Ro-Net project, which aims to bring Internet to all villages in Romania. According to Mirosla Majoros, the project is about to enter its second phase.
"We want to offer complete digital solutions for everyone in Romania, solutions that are easy to understand and easy to use," Majoros said. "The Smart City concept has become popular and we are in talks with many municipalities to implement various solutions".
Ro-Net in its second phase
The Ro-Net project, which aims to build broadband infrastructure for 783 localities in rural areas, could be completed by mid-year 2019, the Minister of Communications and Information Society Bogdan Cojocaru said during the same event.
"Digitization is a priority for Romania and for the Ministry. At the moment, we have the opportunity to work with one of the most important players on the telecom market, Telekom Romania. The Ro-Net project will be finalized by mid-2019. Our next important project is called Next Generation Network (NGN), and it was approved in August. We have EUR 63 million to give to small, medium and large companies to implement digitalization solutions," said Cojocaru.
At the same time, the Communications minister pointed out that the Government has prepared a state aid scheme of EUR 94 million for SMEs who need financing for technological and digital development.
"I do not want here today, at the heart of digitalization, to talk about the state aid scheme that we have managed to set up together with the Ministry of European Funds. We adopted the provisions on 25 September and I think it is very important for each of you to know that we are ready to give EUR 94 Million to future project of small and medium-sized Romanian companies" said the Government official.
Thanks to the RO-Net Project, approximately 400,000 people, as well as 8,500 companies and 2,800 public institutions, will have access to broadband Internet. The two operators appointed to implement the project, following the tender organized by the Ministry of Communications and the Information Society, are Telekom Communications and Telekom Mobile.