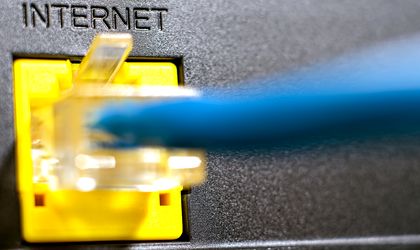 During the 60-day state of emergency, data and internet traffic increased on average by 26 percent, i.e. by 30 percent on fixed networks and 5 percent on mobile networks, while voice traffic grew on average by 11 percent, compared to the 60 days preceding the introduction of the state of emergency, according to Romania's National Authority for Management and Regulation in Communications (ANCOM).
By Aurel Constantin
In the March 16 – May 15 2020 period, Romanian users consumed 1,800 PB (petabytes) of internet and data traffic (+30 percent compared to the previous period) on fixed networks, and 200 PB (+5 percent) on mobile networks. The bigger increase in data traffic on fixed networks may be related to the fact that most users were at home during the state of emergency, using Wi-Fi connections from fixed internet routers rather than mobile internet, including for the consumption of voice or data on mobile devices. "As we estimated since mid-March, the demand for electronic communications services registered exceptional upward trends in the 60 days of the state of emergency in Romania. However, the increases were tempered by European Commissioner Thierry Breton's call for a responsible transmission and use of video streaming services such as Netflix, Youtube or Facebook, so that the share of this type of traffic on mobile networks decreased from 55 percent to 49 percent during this period," said Eduard Lovin, the vice president of ANCOM.
As for voice traffic, during the state of emergency, call traffic increased by 11 percent, exceeding 13 billion minutes (97 percent on mobile networks).
"In the context of the state of emergency and social distancing requirements, communication networks allowed us to keep in touch with our loved ones, to work safely from home, to learn online; in short, to stay connected to each other. Seeing that over 2,000 PB of data were transferred through communications networks in our country in the 2 months of the state of emergency, I think that it is only now, in the aftermath of such a straining period, that we all realise the essential role that communications have in our lives and how important it is to have a sustainable infrastructure. Romania can be proud of the way in which its operators managed networks during this entire period," stated Sorin Grindeanu, the president of ANCOM.
Peak hours during the pandemic
ANCOM estimates show that, during the state of emergency, the busiest hours in terms of fixed and mobile communications (internet and telephony) consumption were from 6 to 7 PM on March 22, 2020 – when the highest internet and data consumption was registered on fixed networks, at 2.3 PB. It was the moment when the first restrictions imposed by Military Ordinance no. 2 on measures to prevent the spread of COVID-19 were established (closing malls and dental clinics and forbidding the entry of foreign citizens and stateless persons to Romania). The highest voice consumption was on March 23, from 11 AM to 12 PM, with 35 million call minutes, when the Romanian president delivered a major statement. A similar consumption peak was recorded on April 19 (from 11 AM to 12 PM), a traditionally busy time on the first day of Easter. Another peak was from 8 to 9 PM on March 25 – the highest internet and data consumption on mobile networks: 0.25 PB, when restrictions on people's circulation outside their homes and the cancellation of some flights were imposed through Military Ordinance no. 3.
The data provided by operators show that they generally complied with ANCOM's recommendation not to suspend services for bill payment defaults, so that even users with outstanding invoices and whose services should have been suspended under normal conditions could have access to internet and telephony services during the state of emergency.
Data traffic during lockdown
The first days of restrictions, in March, were the busiest for companies trying to comply with the new rules and to keep employees working. For most companies, the change was made in 3 days, at the start of the restrictions, during which they made efforts to find ways for employees to work from home.
But data communications didn't move entirely from offices to homes. Even with empty or mostly empty offices, companies used their own servers to establish communication platforms and databases for their employees.
"Many of the remote connections went through the companies' servers, so the traffic was registered on their behalf, even though employees were connecting from home, using their internet lines," said Vladan Pekovic, Technology & IT Director at Telekom Romania.
At Telekom, the fixed and mobile data traffic increased by 25 percent during the lockdown compared to the period before the pandemic. Voice consumption went up by 24 percent, with calls longer by 20 percent on mobile and by 50 percent on fixed lines.
High-speed internet connections
By the end of 2019, Romania had 5.3 million fixed internet connections. Three quarters of those allowed very high data transfer speeds exceeding 100 Mbps. The connections and networks were heavily tested during the state of emergency, and they are now regarded as utility services and high-importance infrastructure.
In 2019, the number of fixed internet connections rose by 4 percent. The average fixed internet data per inhabitant was 29 GB per month, up 14 percent compared to 2018. The penetration rate of fixed internet per 100 households was 64 percent at the national level in 2019, i.e. 75 percent in urban areas and 49 percent in rural areas. Considering the number of fixed internet connections at the end of 2019, RCS&RDS had a market share of 53 percent, followed by Telekom Group with a market share of 21 percent, with the rest of providers totaling 26 percent.
On the mobile internet market, at the end of 2019 there were 12 million 4G connections, up 4 percent from 2018. Of the total 19.9 million active mobile internet connections in Romania, 4G covered 61 percent. The average mobile internet data traffic/inhabitant was 3.7 GB per month, 41 percent above the previous year. According to ANCOM data, Orange had a market share of 39 percent, followed by Vodafone with a market share of 25 percent, with the rest of providers totaling 36 percent.
There were also 22.7 million active mobile SIM cards, of which 58 percent were subscription-based and 42 percent were prepaid cards. The average mobile telephone traffic per inhabitant was 4 hours and 44 minutes per month, while the average SMS traffic was 44 units per month; these values are on a slightly downward trend, due to the growing usage of instant messaging apps and social networks. Orange had a market share of 39 percent and Vodafone had 30 percent, with the rest of providers totaling 31 percent.
Fixed telephony maintained its downward trend in 2019, with 8 minutes per month as the average for fixed telephony traffic per inhabitant, down 17 percent. Telekom Group is the leader of this market with a 40 percent share, followed by RCS&RDS with 35 percent. There were also 7.6 million TV subscriptions, of which 5.4 million were cable TV subscriptions. RCS&RDS had a market share of 53 percent, Telekom Group had 17 percent, and the rest of providers totaled 30 percent. Revenues in the telecom sector increased by 3 percent in 2019, amounting to EUR 3.5 billion.
The mobile telephony sector generated 39 percent of all revenues in the market, the fixed and mobile internet segment accounted for 30 percent, TV channel retransmission for 14 percent, and the other services made up 17 percent. The average monthly revenue from the telecom sector was RON 71 per inhabitant. Considering the revenues obtained in 2019, Orange had a market share of 26 percent, Vodafone Group and Telekom Group of 24 percent each, and the rest of providers totaled 26 percent.