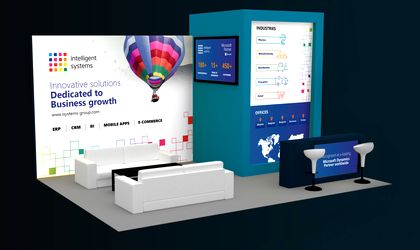 Intelligent Systems Romania will participate in one of the largest online business events in Central and Eastern Europe on 11 – 12 November, GoTech World 2020.  Mary Stoyanova, Sales Manager at Dynamics Mobile part of Intelligent Systems portfolio, will showcase the latest version of Van-Sales, a standalone distribution solution integrated with Microsoft Dynamics.
Alexandru Dorobantu, General Manager – Intelligent Systems Romania commented on the demo topic: "Being part of an international software company puts my team in a fortunate position. Interacting with customers from different countries, provides us with the opportunity to address a diverse array of business challenges. Hence, we have noticed that there is one crucial activity that leads to bottom line improvement for every distributor and wholesaler – the sales fleet route optimization. For this reason, we decided to demo our distribution solution which helps the sales force see planned delivery routes, visit customers and issue invoices right from their mobile devices."
The sales and delivery team spend a considerable amount of time on the field, visiting customers. If the time spent en route is optimized, the sales force may leverage this in order to execute their duties faster and better. Consequently, a higher number of customers can be served daily resulting in a full set of operational and financial benefits.
The global pandemic might have shifted some of the priorities within distribution and wholesale companies. However, the essence remains the same: transforming the daily processes and using right digital tools to optimize them.
Find out more about Intelligent Systems innovative solutions and how they help you grow your business by visiting our virtual 3D booth at GoTech World 2020. Van-Sales demo will take place on November 11th at 11:00 AM EET, click here to participate.
About Intelligent Systems
Intelligent Systems is a company with a 16-year continuous growth and more than 190 employees. The company is a leading Microsoft Dynamics partner in Central and Eastern Europe and part of the Inner Circle – the highest recognition given to only 60 out of more than 10 000 Microsoft Dynamics Partners worldwide. Intelligent Systems has carried out more than 450 implementation projects in 55+ countries for organizations running businesses in the areas of retail, wholesale, manufacturing, automotive, transportation and logistics, and more.
About Dynamics Mobile
Dynamics Mobile is an affiliate company of the business software integrator Intelligent Systems. The team is comprised of highly qualified and motivated professionals offering innovative and cost-effective mobile solutions.