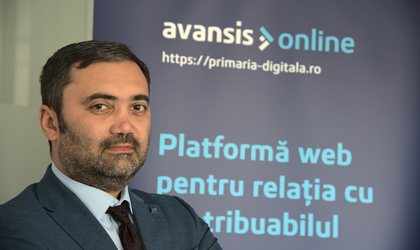 Integrisoft Solutions Integrisoft Solutions, the largest manufacturer and implementer of software applications for public administration, with over 15 years of experience in the field, recorded a turnover of approximately RON 24.9 million in 2021, an increase of 39% compared to the previous year.
The result was due to an increase in the number of institutions and users implementing Avansis integrated digital solutions (17 thousand accounts registered) developed by the company, a trend that continues this year.
A significant part of Integrisoft Solutions' revenue in 2021 was generated by the digitization applications launched during the pandemic period to facilitate the relationship between institutions and taxpayers, such as Avansis Online – a platform that allows citizens easy access to services previously only available at the pay desk and Avansis Mobile – a mobile application that facilitates citizens' interaction with public institutions.
Thus, in 2021, the company implemented about 20 Avansis Online projects and 15 Avansis Mobile projects in public administration institutions in the country, the total value of the projects amounting to over 3.5 million lei.
"Through the Avansis Online and Mobile solutions, citizens can consult the tax situation (view payments made, declarations, etc.), submit documents online, generate electronic documents (tax certificates, tax decisions, urban planning certificates, building permits, etc.) and communicate online with public officials. These online and mobile service platforms provide citizens with an easily accessible remote tool, saving time spent on queuing at the pay desk and on complicated bureaucratic processes for the benefit of society", says Simona Ilie, Development Director of Integrisoft Solutions.
One of the company's major achievements in 2021 was the finalisation of the digitisation project of the City Hall of Calarasi, won by Integrisoft in 2019, funded by the Operational Program for Administrative Capacity (POCA). The total value of the project was over 2.9 million lei. Following the implementation of digital solutions in the Călărași City Hall, the institution received the Excellence Award in Digitization at the AMR 2021 Gala. Over the past two years, Integrisoft Solutions has implemented several European-funded digitization projects, making a major contribution to the de-bureaucratization of the administrative system for citizens in several cities and municipalities.
"Integrisoft's positive development in 2021 shows us that more and more institutions understand and embrace the digital transformation process and we are honored to be able to provide them with integrated and customized solutions to streamline their business and deliver fast and quality services to the public. As for the plans for 2022, we will use our accumulated know-how to develop a new product – CARES, a software and application that fully covers HR and payroll activities, a solution that can be implemented in both local/central government and the private sector. Currently, the CARES solution is deployed at approximately 50 customers, managing over 5,500 employees. We are also the only one on the market with integrated unique database solutions that can cover all departments of a public institution, which qualifies us for Government Cloud implementation. It is the Avansis modular integrated system, which uses the latest technology", says Cristian Trestianu, CEO Integrisoft Solutions.
Once citizens become comfortable with online platforms for dealing with public institutions, interest in digital alternatives is growing. One third of municipalities and 5 sector town halls in Bucharest use Avansis modules. The modules of the integrated Avansis system are used by more than 6000 users in over 400 institutions and manage 25% of taxpayers' payment obligations nationwide.
For 2022, Integrisoft expects a 15% increase in turnover. The company operates from two offices in Bucharest and Targu-Jiu with over 130 employees.