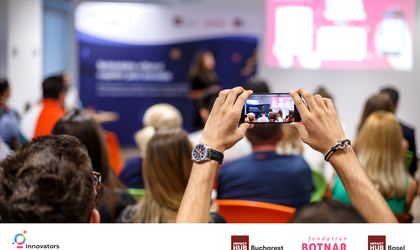 Impact Hub Bucharest in association with Impact Hub Basel and Botnar Foundation announced Innovators for Children Pitch Day. The competition will take place on Tuesday, 15th of September and will be broadcasted live on the organization's Facebook page.
Of the 130 teams who submitted their applications, 10 teams made it up to the final competition, where they could win up to 100.000 euros – private non-refundable funding. The teams are: Asociatia Help Autism – AutismOn, Brio, EMOFACE, JSKids, KIDoc, Parentool, Peditel, REThink, Tactile Images and Univrse Education.
At the end of the competition, the judges – education & business specialists, will determine three to five start-ups winners to receive a total of 100.000 euros in funding, support in implementing their project, access to the Impact Hub community and will be granted an exploring trip hosted by the partners of the program in Basel, Switzerland. This way, the entrepreneurs will have the opportunity to meet the representatives of some organizations, institutions and businesses that contribute to the well-being of children.
"We are already marking the 2nd edition of Innovators for Children, with astonishing results thus far: three months of working consistently with participants and mentors to transform ten ideas into ten amazing programs that will help children and teenagers. We are talking about the biggest funding that was brough into a competition for startups this year, during a pandemic, and that is a prize of 100.000 euro in non-refundable funding. This sum will help in implementing the winning projects.

Impact Hub Bucharest still holds up the title as the greatest business incubator in the whole country, as this year there were approximately 140 start-ups who had access to infrastructure, consultancy and funding which helped them reach out fast from idea to a final product", said Oana Craioveanu, Co-founder Impact Hub Bucharest.
The mentors for all the start-ups who made it to the grand finale of Innovators for Children program were Oana Craioveanu, Co-founder Impact Hub Bucharest, Ionuț Pătrăhău, Co-founder SeedBlink, Diana Certain, Executive Director of Organizația Umanitară Concordia, Adina Crețu, Project Manager Startarium, Sabina Antoci, Senior Program Manager Fundația Vodafone România and Adelina Dondorici, Co-founder Parenting Ads.
"The selected start-ups are halfway between performance and social impact. We cannot really predict the future to know which will be the main source of the added value, but we are certain that each of the participants will go to one way or the other after the competition", said Ionuț Pătrăhău, Co-founder SeedBlink.
How to register at Innovators for Children Pitch Day?
To watch the pitching competition of Innovators for Children finalists save the date for the online broadcasting on 15th of September, from 5 PM to 7 PM.
You can attend this event for free, by signing up on innovatorsforchildren.org. The public can vote their favorite team who will receive a 1000-euro prize.
In last year's edition of Innovators for Children, more than half of the start-ups who made it to the finale could access funds to implement their projects. About 75% of them established strategic partnerships for this.
In 8 years of activity, Impact Hub Bucharest hosted hundreds of incubation programs for businesses, supporting over 500 start-ups on their way to becoming well validated business models on the market. Near 40% of them reached financial profitability after their 1st year of activity.