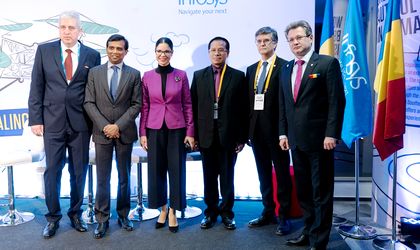 Infosys, one of the global leaders in consulting and state-of-the-art digital services and also one of the biggest companies in India, announced the opening of a Digital Innovation Center in Bucharest, with a ceremony attended by government officials and academics. The center will focus on developing projects for customers who need cutting-edge digital technologies, including Cloud, Big Data, Artificial Intelligence and Automated Learning.
The center was opened in The Mark building on Calea Grivitei, close to Piata Victoriei. The center already has 200 employees and can host an additional 300. Infosys will invest in training programs for both current employees and new employees. These training programs will focus on a number of key competences, including user experience, Cloud, Big Data, digital offers, basic technology skills and IT skills.
Starting last year, when the company decided to open a center in Bucharest, the first of its kind in Europe, Infosys already gathered over 10 big clients from Europe. The center in Romania will serve the European market.
The company has also entered in partnerships with the University of Bucharest and the Polytechnic University of Bucharest for strategic partnerships for technological innovation and for the development of the Romanian labor force, including joint training courses, scholarships and research. Training programs for Romania will capitalize on the knowledge and best practices that the company has developed through decades of experience accumulated in the Infosys Global Education Center, one of the largest corporate universities in the world, based in Mysore, India.
At the same time, Infosys plans to open a Cyber ​​Security Center in Bucharest this summer. The center will provide full cyber security 24/7 services, helping European and global customers to progress through their digital transformation. Services include cyber-crime detection, ethical hacking, security analytics, threat detection and response. The Bucharest Center will be vital for providing services throughout the European region, given the GDPR restrictions and other regulatory requirements specific to each country.
Infosys, currently recognized as Europe's top employer, has operations in 15 European countries, employing over 12,000 people. The company works in a wide range of industries for European and global clients, including financial services, health, life sciences, business management, utilities, production and retail. Last year, the company's turnover were USD 11.3 billion.
"Our Digital Innovation Center in Bucharest marks an important step forward for Infosys, as the company is expanding its presence in Europe, improving our ability to serve both regional customers and global customers. Through partnership with key local academic institutions, we will create organic talent bases in Romania that are not on the market today. By creating and developing a highly skilled workforce in Romania, we can help reduce the digital skills gap in the region, thus contributing to the Romanian and European economy," said Ravi Kumar S., president, Infosys.

"Europe is a laboratory for innovation and the coming generation is eager to develop its skills and knowledge in the digital age through competitive courses and practical experience. We have a partnership with Infosys so that the young Romanian specialists can work and be able to prepare with the eminent experts of Infosys at the new center, which will give them the necessary skills to contribute to shaping Europe's digital future," said Mircea Dumitru, rector of the University of Bucharest.