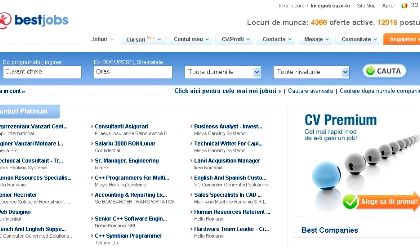 The pool of applicants is ever enlarging as redundancies are made both in the private and public sector. For recruitment sites, this means higher traffic as individuals who were made redundant will be looking for a job while companies prospect the market. Most firms will resort to recruitment sites first, especially for entry-level positions.
Otilia Haraga
This year alone, the number of redundancies in the public sector will exceed 70,000. In all likelihood, the layoffs will continue next year: it is possible that up to 125,000 positions will be cut in 2011 in the public sector, said Andreea Vass-Paul, advisor to the Prime Minister.
Meanwhile, in the private sector companies are desperately rolling out their cost-efficiency plans in order to weather the financial storm. Four out of ten organizations implemented a restructuring plan in the first quarter of the year which has seen individual layoffs (69.8 percent), retirements (60.3 percent), voluntary departures (21.1 percent) and collective redundancies (27.2 percent), according to the Barometer of the Human Resources Market in Romania, launched by HR Management Club with the support of Daedalus Millward Brown. The study was carried out from April-May on a sample of over 200 GMs and HR managers in Romania and represents an X-ray of the human resources market in the first quarter of 2010 in comparison with the last quarter of 2009. This wave of layoffs in both the private and public sectors can only mean one thing: the pool of potential employees is greater than ever.
The HR Club study found that in the first quarter of the year, companies were mostly looking for specialists (66.2 percent), entry-level (42.5 percent) and mid-level positions (40.4 percent). Of the responding companies, 21.4 percent were seeking seniors in Q1, 2010. 
External recruitment is the main means of attracting new employees for entry-level positions. Most companies – an overwhelming 86.9 percent – use online recruitment sites to hire employees, especially for entry-level positions. Middle management positions are also scouted for mainly from external pools, the study shows. Only when seeking top management will most companies resort to headhunters.However, middle and top management positions are also advertised on recruitment sites. "Over the last 30 days, the site has received 3,341 adverts for mid-level positions and 1,600 for senior-level roles. Hiring companies also use the database search service when they headhunt for these positions," says Carmen Hadarau, marketing specialist at BestJobs.ro
At the moment, recruiter Myjob.ro is advertising 341 positions in middle and top management – approximately 10 percent of its total jobs. The maximum proportion – 12 percent – was in March, both in 2009 and 2009, and it has stayed at a level similar to that in the pre-crisis period. "We must also take into account that the majority of employees only mention the domain/department where they want a manager – sales, marketing, IT for instance – without specifying that the respective position is a management one. This is why the ratio is slightly higher than that registered by the system," says Adela Rapeanu, communication expert at Netbridge Services. 
Hunting for potential employees on an online employment site has its advantages. Companies can create an account rapidly and the ad is published right away. Within several hours of the announcement being posted, the firm can already start scheduling interviews. Also, the CVs of applicants are automatically stored in the company's database, explains Laura Chilom, HR consultant at eJobs.ro
Candidates can also draw up their CV in a short time by filling in the information in the corresponding sections. Also, they can apply for an unlimited number of jobs and can be called for interview within hours of an application, says Chilom.
"The costs of hiring through an online recruitment site involve only posting the announcement or looking for CVs in the database. By comparison, using recruitment agencies involves supplementary costs for the selection process as well," says Hadarau.
For online recruitment sites, the larger pool of applicants means increased traffic.
From January-May, the traffic registered on BestJobs.ro was 20,450,815 visits, 81 percent more than during the same period of the previous year. At the moment, more than 70,000 companies are clients of the BestJobs site, also up on the previous year. BestJobs, a Neogen site, is present in Moldova, Serbia and Bulgaria, and is the most visited recruitment service in South Eastern Europe. Neogen posted last year a turnover of approximately EUR 2 million, of which BestJobs contributed revenues of approximately EUR 1.3 million. "This year we estimate we will cash in excess of EUR 2 million," says Hadarau. Recently, Neogen acquired CeeVee.com, a rapid CV management service, from web development company Lateral Romania for an undisclosed sum. As a result, BestJobs is taking its operations from regional level, where it is present with BestJobs.bg, BestJobs.rs and BestJobs.md, international. The number of registered users on CeeVee.com is over 34,000 all over the world.
eJobs.ro appeared in 1999 and was the first online recruitment service in Romania. Currently, the site has approximately 5 million visitors per month and over 40 million pages that are visited per month, according to Trafic.ro. Some 140,000 companies use eJobs services to place job ads and for personnel selection. eJobs.ro is currently the top online recruitment site in Romania, with a market share of over 60 percent and more than 1.9 million active CVs in its database, according to Trafic.ro. At the moment, there are 14.102 available positions in various domains posted on the site. Of these, 2,191 are based abroad.
On Myjob.ro, a Netbridge Services site, the greatest competition – as many as 5,000 applications for a single job – comes from candidates without experience for posts that do not require studies or specific knowledge. These are entry-level jobs in domains such as sales or customer service, says Rapeanu.
MyJob.ro currently works with over 10,000 companies in Romania but also with recruitment companies such as Lugera&Makler, ABC Human Capital, Manpower and Adecco. "This shows that even during a crisis, companies have not given up outsourcing these services and still set a budget for the intermediation of recruitment and personnel selection," says Rapeanu. The most active companies on Myjob.ro in the last two months were Continental Corporation's Automotive Divisions, Tip Top Food Industry Romania, UniCredit Tiriac Bank, UPC Romania and Arabesque.