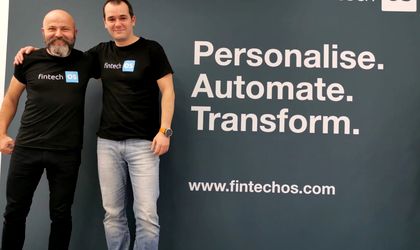 Teodor Blidarus and Sergiu Negut founded startup FintechOS in 2017. Two years and three months later, they've managed to close a USD 14 million financing round, which raises the question: will FintechOS be the next Romanian unicorn?
The Series A financing round was led by EarlyBird's Digital East Fund and OTP Ventures. Previous investors GapMinder and Launchub Ventures also participated in the round. The previous round took place in May 2019, and it was worth EUR 1.1 million. GapMinder, Launchub Ventures, Gecad Ventures and other private investors took part.
FintechOS is making history in the digitalization of the financial industry. It has developed a platform that works like an operating system and allows banks, insurance companies or any other financial institutions to rapidly create digital apps and services.
The idea for the product belonged to Teodor Blidarus. "He had this vision that all the clients want the same thing at the same time. A certain way of structuring data, a certain type of process," said Sergiu Negut, the co-founder of FintechOS, in a discussion with Business Review. Blidarus knew that companies in the financial industry would have to create new services and products for their customers, the same way that fintechs like Revolut did, and were hugely successful. He wanted a technology that would allow these companies to build the products exactly the way they wanted, but in a much shorter time than it would take if they were building them independently.
"At some point it became clear to Teodor that this technology had to be done from scratch and had to be a world class product built by a world class team," says Negut. This is where his role came into play: making sure that the business plan was carried out and allowing Teodor Blidarus to build the platform. The company started with an initial investment of about EUR 500,000, of which EUR 200,000 came from Sergiu Negut.
Ever since the beginning, they envisioned the company's growth occurring with huge steps, and not organically. Considering that they had a revolutionary product with a designated market, they decided not to go step-by-step and invest 20 percent of the profit, as it is traditionally done, but by investing 200 percent of the revenues. Which is possible when you get investment funds to finance your idea. "This way, you have the money to hire the best people on the market and invest in the product, which is a very difficult job for a startup," Negut says.
They made sure from the start that the product would be attractive for venture capital funds: a model that is not very common in Romania, since venture capital is scarce.
Usually, any startup begins with the 3F money (family, friends, fools), and after a few months they look for an accelerator, a business angel or a combination of those two in order to get their pre-seed money. "At this stage, the startup must have a minimum viable product," Negut notes. In its first months, FintechOS managed to get a total of around EUR 1 million (including the investment made by the founders) in pre-seed money.
One year after starting out, in November 2018, FintechOS got a seed finance round from GapMinder, worth EUR 0.6 million. "At the seed stage you have to prove that you have recurring revenues, that you can sell to some clients,  and that the business model works," Negut explains.
Afterwards, the company must show that there is an alignment between its product and the clients, a so-called product market fit. Series A round investors also need to see good leadership in the company, with the ability to form a team around it. These are the steps that need to be taken at the global level. When the company is from Eastern Europe, it needs to do even more to convince venture funds.
A Romanian startup needs to demonstrate that it can go global before entering a Series A round. This is why FintechOS went abroad in search of clients. With previous investments, they've managed to open offices in cities like London, Vienna, Copenhagen, Amsterdam or Warsaw and have clients in countries like the UK and Germany. They needed an international footprint to prove that they were able to maintain the growth.
Another very important step in convincing investors is showing multiple hundred percent growth every year. "And after the growth in 2018, we will close 2019 with close to 500 percent growth," says Negut. After all the boxes are ticked, the company still has to go and pitch to every single investor to convince them that the investment is viable. "It is a lot of work. At the end of the day we talked to over 60 funds, then over 10 funds wanted to continue, and from that pool we were able to choose the best suited investors for our business," adds Negut, who carried out most of the discussions by himself, while Blidarus focused on the product.
The digital change
The FintechOS technology allows banks and traditional insurance companies to keep up with their customers' ever-changing expectations and also with the speed, agility, and flexibility of fintechs, companies whose business models are based on innovative technologies.
With the help of FintechOS technology and expertise, banks and insurance companies can launch hyper-personalized, fully digital products and services based on complex data sources, at unprecedented speed – in weeks instead of months or even years. The implementation of FintechOS technology can be done as Software-as-a-Service: the company helps clients in the process of migrating to the cloud, but also locally (on-premise), and the platform easily integrates with existing tech infrastructure.
FintechOS offers its customers the opportunity to use data from over 150 integrated sources (from social networks, contextual information, cloud systems and enterprise solutions), as well as 20 automated financial processes (based on artificial intelligence, such as KYC – Know Your Customer), Customer 360, prices, risk analysis, etc.). FintechOS also offers a marketplace with over 50 open source applications created to facilitate the use of technology in customer onboarding processes, credit, savings, insurance or pensions. Furthermore, strategic partnerships with large companies such as Microsoft, EY, Deloitte, Publicis Sapient and CapGemini allow the company's technology to be introduced and adopted more quickly on many markets.
"We are helping companies in the financial industry digitize their services, in order to be as fast and versatile as fintechs. The companies are building the new products on their own, but everything is ten times faster when they're using our platform. They don't have to write the code all over again to develop the product," says Negut.
Last fall, they launched FintechOS 20, a completely new platform that provides a new way of structuring data. At the same time, they launched the app store, where companies can find ready-made apps.
Customer-driven change
The success of FintechOS's platform stems from the fact that banks and other financial organisations are being forced to develop new ways of interacting with their customers. The birth and the success of fintechs like Revolut or Monese are based on the ways in which they offer services to people. And these services do nothing more than allow you to pay for goods and transfer money. But customers see the technology and they ask for it, so the banks must be able to at least replicate those services. "It's the customers that drive the technology," says Negut. And it is not something that can be done over time, from scratch; it needs to be done fast. "Moreover, digital products have a limited lifespan, so companies will need the tools to quickly develop the next generation," Negut explains.
The future holds a great deal of new digital products that need to be developed. Demand will come from customers, but not the younger ones like Generation Z. The more mature adult generation, who may have a mortgage, a credit line, a pension fund and so on, will ask for more services to suit their needs. Banks' most potent clients want digital products and the banks will have to provide these services. "The demand is not fully there yet, but we are already offering things that respond to it. What we're seeing today is an amazingly rapid adoption of digital products after they are released. So the question is not whether digitalization will occur, but how fast it will happen," Negut argues.
What we shall see in the future is "robust personalisation," which means that there will be products and services made for individuals and their needs. And not just in banking, but in insurance and investment as well.
The financing round
The money the company received at the end of 2019 will go into research and development and enhancing its international footprint. First, it will expand its presence in Europe. Today, FintechOS has around 90 employees in Bucharest, where the research and development department is based, and another 60 in Europe, most of them in London. The European team will grow in order to keep up the sales.
Another step is expanding outside Europe, most likely in South-East Asia and the US. "We also need commercial development, in branding and market studies – all the things you need when entering a new market," says Negut. There are differences in the ways in which FintechOS finds clients in Eastern Europe versus the more mature markets. In our region, the clients who know about the company usually ask for its services, while in the UK or other western countries the company must reach out to clients through conferences or meetings in order to present the services they offer. "Last but not least, we want to have a business that is convincing enough to be able to raise a Series B in the next 12 months that will be much larger than the funding we just got," says Negut. Last year, FintechOS recorded revenues of about EUR 5 million, and this year it should triple that number in order to meet investors' requirements.
The company was valued at around USD 50 million after its latest financing round. If it manages to triple its revenues, the valuation will go up to USD 150-200 million by the end of the year. This means that the unicorn status is not that far away, even if the founders are not thinking about that. What's more important is developing the product to the point where many financial institutions around the world are using the platform. "Success is being at the right place, with the right thing, at the right time. I hope we've covered all that," Sergiu Negut concludes.