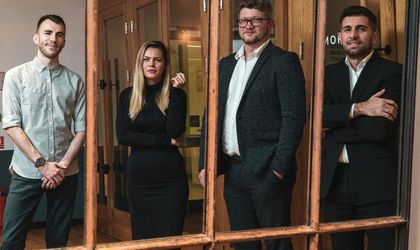 iFactor, an innovative fintech that aims to democratize SME lending receives its seed funding in a round led by ROCA X and becomes the first Romanian startup to be listed on the leading online investment platform, Seedrs.
The amounts raised will support the company in developing its services, as it aims to offer European private investors access to a new class of investment assets. iFactor plans to heavily scale-up its operations in the next two years, starting from Romania, its expansion plans target markets such as the UK, Germany, Austria and Switzerland. The company has multiple products in development and is currently focusing on optimizing and strengthening its current offering.
''I have chosen Roca X as a main partner due to the synergies that our product has with Impetum Group's existing brands and business lines, additionally we share a common vision which represents an important asset that fuels our drive towards our final goals. Impetum Group's vast experience in multiple areas, and particularly in the business distress area (through CITR and ROCA Investments) will aid us not only in overcoming the obstacles that we'll undoubtedly encounter as an emerging fintech but more importantly in shaping the iFactor product as the go-to option for SME financing" Cosmin Curticapean iFactor CEO & co-founder said.
—
''iFactor marks a number premieres on the Romanian market, firstly the company has garnered strong support from both domestic and foreign investors and has proved that it is a viable but more importantly a necessary product. Secondly it is the first Romanian company that targets the alternative funding market that can actively aid the distress area, giving us faith that the product will witness rapid adoption and quick European scaling. Our partnership is a win-win deal that will in turn contribute to a more flexible and sustainable business ecosystem" stated Matei Dumitrescu, Senior Investment Partner Roca X.
Kirsty Grant, Chief Investment Officer Seedrs: "iFactor is an exciting fintech company with an ambition to extend its services across Europe and we are thrilled to  have them as the first Romanian company listed on our platform. Seedrs has supported fast-growth, innovative businesses across Europe for many years, and iFactor represents our first steps to supporting Romania's thriving entrepreneur ecosystem."
With the launch of iFactor entrepreneurs and SME's will have a more reliable, cost-efficient and nimble way to access liquidity, allowing them to have a swifter path to growth in line with the ever-growing demands of the market.
iFactor is the first European company to use a hybrid business financing model, it has been granted permission from the National Bank of Romania to include private investors in the business circuit, thus enabling them to easily invest in SMEs. Through its business model iFactor brings the next step in its market; it shifts SME financing that has thus far revolved around the banking sector towards a digital entrepreneur-centric model that stimulates growth.
In the coming months iFactor aims to accelerate its traction on the Romanian market and to become a relevant player while also having a viable factoring and loan product on the UK market.
The fundraising strategy has been designed to attract multiple types of parties such as early-stage institutional supporters, (Roca X & Smart Impact Capital) business angels and strategic partners.