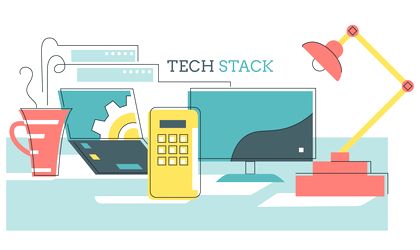 In a world largely influenced by technology, businesses will have to come up with digital-first strategies to thrive. As a business owner, you need to be critically aware of the power of technology in transforming your business operations and result. There are numerous digital tools available and building your tech stack can be quite overwhelming. 
In this article, you'll learn how to choose and build your tech stack that can push your business forward into the future of technology.
Understanding Tech Stack
First, let's learn what a tech stack is. Tech stack refers to the collection of technological tools, web apps, and software that a business use every day to get work done. 
For instance, in your marketing department, your tech stack will include a customer relationship management (CRM) system, email management software, and social media marketing tools.  
Today, tech stacks are used for a variety of reasons. Instead of helping just one department of your business succeed, building a tech stack can encourage the growth and expansion of your entire business. 
Building The Right Tech Stack For Your Business
Your tech can be a significant investment for your business. Here are tips on how to build the right and most effective tech stack possible for your business. 
You can always create your tech stack on your own. However, if you have limited knowledge of current technology or you're a tech-savvy business owner, the right IT experts can help build the right tech stack for your business. 
If you're in the area, you can visit the IT company in Vancouver, Tenecom. Consulting with an expert in the field can make the whole process easier. They can provide you with valuable insight in choosing and investing in the right tools for your business's special needs. 
Most business owners simply put their money on any tool that seems to offer great function. Before doing so, you need to figure out the purpose of buying a certain tool. 
With your business strategy in mind, you need to consider what you need to operate. Look at the business processes and look for areas where you need to be more efficient and streamlined. You also need to consider what you need to reach your long-term goals. 
In general, your goal should be to create a tech stack that can help your business operate like no other. It's also helpful to think about what you want your customers to experience before developing a tech stack. 
Once you've identified the processes that you would need technology for, you can choose one to focus on. It's important that you also identify what other processes influence your chosen process since this can affect other tools you choose. 
Once you know which processes you need to streamline, you need to look for a tool that can help with the process. In general, you'll find similar tools competing for streamlining a business process. 
So, before committing to a specific tech stack, you need to compare different tools and weigh your options. Never settle for the most popular or cheapest tools you can find. Choose the tools that can bring the highest value to your business and help streamline the process. 
Your employees will be the ones using your tech stack every day. Thus, you must ask them and consider their needs when choosing the tools that they will be using. 
One of the most important questions you need to ask is how tech-savvy your employees are. This can help determine the level of training needed for a given tool. 
Also, if you don't have an in-house IT team, you need to ask who will train your employees in using the tools. Preferably, you want to choose the tools that are easy to use and navigate or those with quick customer support services. 
In addition, you need to consider how easy it'll be for your employees to shift from the current tools to the new tech stack. Businesses experience failure in implementing a digital transformation due to resistance from employees. 
To prevent failure, you need to consider if the tech stack presents a natural shift. Will it affect your current business culture? If so, how can you best present it to your team as a positive shift in their daily work?
As the old saying goes, "Change is the only permanent thing in this world". This is even truer in the digital world as technology continues to advance and change every single day. 
That said, you want to choose a tech stack that can scale with your business. You need to consider your current business goals and trajectory against the limitations of the tools you're considering. 
Making sure that your tech stack can keep up with your company's growth allows you to make the most out of your investment. In addition, you also want tools that can keep up with shifting market and consumer expectations, to ensure long-term benefits. 
Conclusion
In terms of tech stacks, there's no one size fits all solution. Every business and even the department of your company has a set of tools that's unique to their specific goals and needs. 
Choosing the right tools and software for your business allows you to optimize operations increasing productivity and ultimately boosting your bottom line.