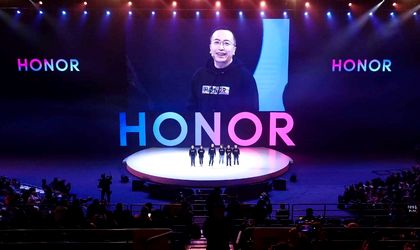 HONOR, one of the top brands of smartphones, part of Huawei, grew strong in 2018 despite a shrinkage of the market. According to IDC, the global smartphone market recorded a 3.1 percent drop in deliveries over the first three quarters of 2018, but HONOR went up 27.1 percent.
At the moment, HONOR is ranked first in terms of market share in the mid-and high-end online slot space for the same period.
"Honor products help us win the support of 100 million fans around the world. We believe that HONOR will soon meet our goal of becoming the top 5 global smartphone brand in three years, and the top 3 in five years. This year, we re-branded with a new logo, accompanied by the slogan "Honor MY WORLD," and we have a new mission to create a smart world that belongs to young people around the world. Our new visual identity will continue to have echo and help accelerate the development of our brand," said George Zhao, Honorary President.
The global launch of HONOR View20 will take place on January 22 in Paris. The cutting edge model brings the latest innovation and creativity from HONOR. Since its inception, HONOR has made history, driving the revolution of smartphones in terms of Artificial Intelligence (AI), performance and product design.
HONOR evolution in AI
AI is and will remain the biggest innovation in the industry. According to a study by PwC, it is estimated that AI will contribute to the global economy by up to USD 15.7 trillion by 2030. By identifying this major trend, HONOR recently launched, with the View20, a revolutionary AI camera. The device uses the AI ​​computing power and the dual-ISP and dual-NPU graphics processing power of the Kirin 980 chipset to combine the essence of several photos taken by the world's first 48MP camera (powered by the Sony IMX586 sensor) and to create an ultra-high-definition 48 MP AI image.
Over the years, HONOR has been amazed by a succession of important breakthroughs about AI. In December 2016 HONOR launched HONOR Magic, the industry's first "Magic Live" smartphone, capable of verifying the ecosystem, learning how to collaborate with companies, and helping design cloud applications. A year later, HONOR switched to the next level and incorporated into the HONOR View 10 an AI chipset, Kirin 970, allowing for scene recognition and self-learning capabilities. Equipped with the same AI chipset, HONOR 10 features a dual AI 2.0 camera with two lenses and a semantic image segmentation technology, a first in the industry that can recognize over 500 scenarios in 22 categories in real time.
Performance
HONOR continually brings up-to-date hardware and software upgrades to its smartphones to provide consumers with uninterrupted performance. HONOR equipped the HONOR View20 with Link Turbo, which uses AI data and large data volumes to automatically analyze user behavior during use and network conditions. This allows them to go smoothly to Wi-Fi or 4G networks and increase download speed by simultaneously using both networks.
In addition, HONOR launched a series of high-end technologies last year. The GPU Turbo, launched in June 2018, is a revolutionary hardware-software integration solution that increases the power of graphics processing by 60 percent, while reducing SoC (System on Chip) energy consumption by 30 percent. HONOR also launched the liquid-cooled cooling system, equipped with a 9-layer thermal design and a PC-type liquid cooling pipe. It offers a 41 percent increase in heat dissipation and a 10° C reduction in processor temperature for mobile phones.
Design
Honor gives priority to the design of its products, both in terms of functionality and aesthetics. HONOR View20 is the perfect combination of the two. The HONOR View20 comes with a completely new, All-View Display technology with an innovative design that integrates the front camera into the screen, and a vibrant, V-shaped V-color gradient from nanolithography technology.
HONOR has been top-of-the-top in the race for a full-view genuine screen, right from the adoption of the 18: 9 without a frame of the HONOR 7X and HONOR View10 in 2017. Not long after, HONOR launched HONOR 10 with cropped screen, expanding even further the display area.
HONOR is one of Huawei Group's leading e-brands of smartphones. The brand is positioned under the slogan "For the Brave" and has been designed to meet the needs of digital natives through Internet-optimized products that give users superior experience, inspire, develop their creativity, and empower young people to fulfill their dreams In order to do this, HONOR operates in a different and courageous way and takes the necessary steps to offer innovative technology to its customers.