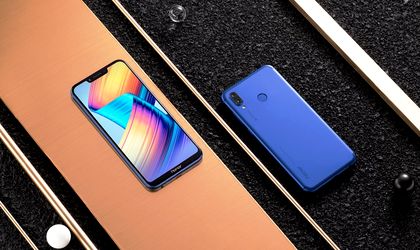 Honor Play, part of Huawei group, is the first in a new line of devices designed to global gaming industry. The device is equipped with GPU Turbo, a technology that enhances graphics processing and extended battery life.
Honor Play complements Honor's strategic portfolio and gives young people exactly what they need for an exciting gaming experience. Together with PUBG MOBILE, one of the most popular tactical tournament games, Honor has made every effort not only to solve performance problems but to develop a device specifically designed for gamers. Honor Play launches in the industry by redefining its users' gaming experience, falling within a RON 1599 budget.
The launch of the handset has brought two gaming communities and casual users to two state-of-the-art smartphone technologies: GPU Turbo, which significantly increases graphics processing and computing efficiency and the advanced AI technology that revolutionizes camera function on device.
GPU Turbo is an innovative hardware and software solution that helps the Honor brand to stay away from its competitors. As a strategic partner of PUBG MOBILE, Honor Play significantly increased graphics processing and increased the average frame rate to 39.46 on PUBG MOBILE. The jitter rate was reduced to 0.21 percent, more than one percentage point below the main competitors of Honor, while the battery life is 30 minutes higher than the other flagship devices, where it lasts time about 4 to 5 hours of continuous activity.
Honor Play activates AI while playing for a full gaming experience. At the same time, the 4D game experience includes 3D audio effects and AI vibrations personalized according to the most popular games on your phone so the sounds adjust according to the game's objects and scenarios. The AI ​​4D Smart Shock function can be activated for 30 different vibrations of a scenario, depending on where the enemies or shooters approach. These effects are complemented by 3D surround sound made by Histen 3D audio technology, an ultra-wide 3D sound field that gives the user immersive audio experience.
Honor Play is one of the smartest mid-range phones on the market. With AI motion detection and smart facial recognition, it's easier than ever to take pictures using the 16MP front camera. Occasional users will have an equally rich entertainment experience due to the huge 3.750 mAh battery capacity that allows the device to be used for a long time, with over 15 hours of streaming video and 95 hours of playback music, even with the full-featured FullView Honor 6.3-inch display. Also, the Kiring 970 NPU chipset offers a range of intelligent features that together with EMUI 8.2 triggers true AI processing power.
Slim and subtle metal design, like the unibody, comes in a range of perfect colors for all gamers: Midnight Black, Navy Blue, Ultra-Violet, and Special Player Edition with a red and black design.
The design retains the size of a typical 5.5-inch screen for easy use and a 19.5:9 bezel-less display.
Honor Play is available for RON 1,599 and can be purchased from HiHonor.com on global markets, including Western Europe (UK, France, Germany, Italy and Spain), Central and Eastern Europe, Europe North, Middle East, Russia, India and Asia Pacific.
"Honor Play opens a new horizon in the global gaming industry. Honor will be the first brand to offer its users an exceptional gaming experience and mobile entertainment," said George Zhao, president of Honor. "We want to create a new mobile gaming future for young people around the world. Honor Play is the device that meets the requirements they have in terms of fast and constant performance in gaming and entertainment."
This year, Honor Play fans will have the opportunity to test their skills and compete with the biggest gamers in the world at Gamescom, PUBG MOBILE and Asphalt 9. Both games have been adapted for Honor Play and many more will be announced soon.
Honor celebrated the Honor Play release alongside Audi, the two brands sharing the same passion for speed and performance. As an official partner of the Audi Sports R8 LMS Cup, the Honor Play perfectly combines stylish design with exceptional performance. Both the Audi R8 and the Honor Play offer its users a speed that goes beyond the limits of our imagination. Excellent performance and speed are the two features that recommend Honor Play and the Audi R8 LMS. Audi's powerful V10 engine like the Honor GPU Turbo technology, are essential features that provide added speed and efficiency.