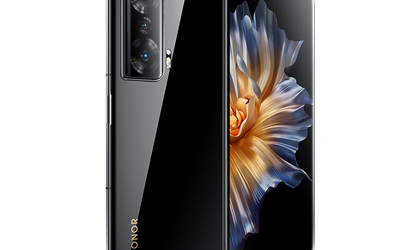 HONOR Romania announced the launch of the HONOR Magic Vs and HONOR 80 series in China. The HONOR Magic Vs raises industry standards in design, display, performance and user experience, making it the perfect partner for business and entertainment.
HONOR gives young creators the opportunity to reach their creative potential with the new phone. The new HONOR 80, the latest smartphone to be introduced to the stylish HONOR range, boasts enhanced videography and photography capabilities.
Surpassing the performance of existing foldable devices, which often come with a long and narrow external screen, the HONOR Magic Vs offers a tablet-like experience, ideal for users who are engaged in multitasking because they can benefit from a larger screen area.
"We are delighted to introduce the next generation of our foldable flagship, the HONOR Magic Vs, which brings together revolutionary innovations and an exceptional user experience in a sleek and stylish design. The HONOR Magic Vs will be our first foldable flagship to debut in overseas markets and we are confident it will deliver huge advances, transforming the way people around the world use their smartphones. " – said George Zhao, CEO of HONOR Device Co, Ltd.
An industry-leading folding smarthopne made with an innovative hinge design. Extremely thin and light, the HONOR Magic Vs is 12.9 mm thick when folded and weighs just 261 g, making it the lightest foldable smartphone in the industry today. The HONOR Magic Vs is equipped with the most powerful battery in the same class of foldable smartphones on the market, with all-day use capability.
Available in stunning colours such as orange, cyan and black, the HONOR Magic Vs not only comes with an impeccable design, but also offers professional solutions for eye comfort with Dynamic Dimming. This feature has the ability to adjust the brightness of the screen in a smart and dynamic way to reduce eye strain caused by screen time. The HONOR Magic Vs also features a triple camera system allowing users to capture stunning images with amazing detail, providing a superior photographic and videographic experience. So the HONOR Magic Vs boasts best-in-class shooting capabilities, producing high-quality images in all scenarios.