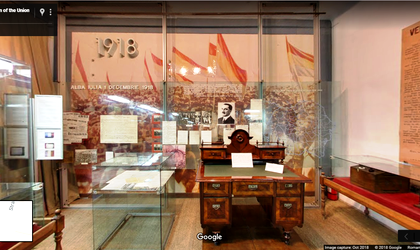 To celebrate the 100th anniversary of Romania's unification, Google launches new Street View images and Google Earth galleries dedicated to Romania and the centennial event. The National Union Museum in Alba Iulia and its collections open to virtual visitors through Street View images inside it. Also, the Unification Cathedral in Alba Iulia can be visited virtually on Google Maps. Along with these, Google has published a Google Earth collection dedicated to Romania.
Under the name of the Union Museum, the institution was inaugurated on May 20, 1929, hosting some of the most important pieces related to the 1848 Revolution and the Great Union of 1918 preserved in a museum until now. These are the letters of Avram Iancu, 6 volumes containing the Union Documents as of 1 December 1918, the three-colored scarves carried by the delegations of the popular assembly on the Plateau of Romans, the manuscript of Vasile Goldis's speech in the Great National Assembly in Alba Iulia, and the office on which was signed on October 12, 1918, in Oradea, in the house of lawyer Aurel Lazar, the Declaration of Independence of the Romanians in the Transylvanian, Banat, Crisan and Maramures lands against the Austro-Hungarian Empire.
This is a Google Earth collection dedicated to Romania, its beauties and the moments that marked its history. There are three galleries: one dedicated to natural beauties (the Danube Delta, Bigar Waterfall or Mud Volcanoes), the second man-made monuments (Bran Castle, Peles Castle, or Sapanta Merry Cemetery), and the third important moment the history of the Romanians (Union Square from Alba Iulia, Victoriei Square from Timisoara or Sarmisegetuza Citadel).
The cathedral is a symbol of the national unity in which, on October 15, 1922, the ceremony was crowned King Ferdinand and Queen Maria as sovereigns of Great Romania.
"It is said that the people and places of a country can not really be known unless you have crossed the threshold. The virtual visit of the two historical objectives that the very idea of Romanians' unity – the Cathedral of the Allied Reunion in Alba Iulia and the Union National Museum – is a chance offered to the broader world to know the values of the cultural and spiritual heritage of the Romanian people, they define their identity. We invite you to cross the virtual threshold and then to be our guests in the heart of Romania, in Alba Iulia!" said Valer-Daniel Breaz, Minister of Culture and National Identity.