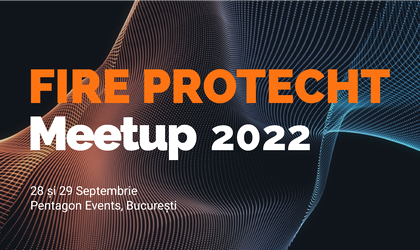 The most common causes of fire in office buildings, commercial centers, public institutions, or industrial platforms are based on factors such as electrical faults, non-functional or expired equipment, staff negligence, and faulty maintenance. Therefore, active fire protection systems must be reliable, fully functional, well maintained, and updated. All these aspects will constitute the basis of our discussion at the newest conference in fire protection. Sign up for "FIRE PROTECHT Meetup" event on September 28 and 29 and learn more about the latest technologies in the fire protection industry. Together with numerous guest specialists from Romania and abroad, various topics and solutions of current interest will be discussed.
In recent years, substantial improvements have been observed in the field of fire protection, as a result of the continuous adjustment and implementation of fire safety strategies. However, there is still much to be done in this direction, as fire safety in buildings remains a major issue in our society.
In this sense, all actors involved should intensify their efforts in finding and implementing effective solutions, as fire safety in buildings requires a holistic approach, from preventing the outbreak of fire to limiting and extinguishing it.
The event aims to cover fire protection solutions and to debate the most controversial aspects of local legislation, with implications for the design and authorization of IGSU.
Among the most important topics of the first edition of the "FIRE PROTECHT Meetup" event are fire legislation, prevention and detection of fires in public buildings (hospitals and medical centers), active protection and minimizing fire damages (solutions for data centers, technical rooms, and cold stores), innovative solutions for fire fighting, active barriers for smoke and fire, as well as case studies and technical demonstrations.
"FIRE PROTECHT Meetup" is a biennial event focused on the most effective technologies in terms of fire prevention, detection, and extinguishing. The event is addressed to architects, designers, and PSI engineers responsible for equipment and installation maintenance.
Among our technology partners to participate in the first edition of "FIRE PROTECHT Meetup" event are important brands in the fire protection industry, such as Honeywell, Wagner, INNOVFOAM, Pentair, Coopers Fire, Dräger, DSPA.nl, Buckeye Fire Equipment, and Rapidrop. All speakers, both from Romania and Europe, have extensive expertise in the field and a solid background in active fire protection.
DEFLAMMO Fire Protection, one of the most important providers of services and complete solutions for fire protection in Romania (detection, alarm, evacuation, smoke vents, and fire extinguishing) will organize the "FIRE PROTECHT Meetup" event on September 28 and 29, in Bucharest. The first edition of the event will reunite local and international specialists in active fire protection engineering.
With a proven experience in the field, DEFLAMMO offers turnkey solutions, which include both specific equipment and installations, as well as a full range of services such as design, installation, and integration of fire protection systems. DEFLAMMO has IGSU authorization for the maintenance of systems and installations for limiting and extinguishing fires and GANEX certification for the maintenance of equipment in explosive environments. DEFLAMMO is a member of AVITECH Group.
The best way to fight a fire is to prevent it.