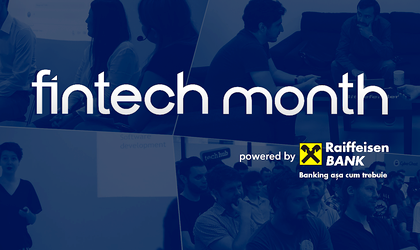 Raiffeisen Bank Romania and TechHub Bucharest are organizing the third edition of Fintech Month with the support of Fintech Camp, Product Camp Bucharest, Security Espresso and BucharestJS. Throughout September, those interested find out more about the fintech industry and those who want and understand how they can develop a successful startup in the field are invited to attend the events at TechHub Bucharest free of charge.
"Raiffeisen Bank started the 'Fintech Month' project three years ago, together with TechHUB Bucharest, when the first fintechs barely appeared on the Romanian market. Every year we see how the community grows and how we have become one of the most dynamic countries in the region. Today fintech companies in Romania are already developing partnerships with banks. Opportunities and challenges are more and more, and Fintech Month meetings are the perfect framework to talk about," says Catalin Chirieac, head of Digital Services PI Customers at Raiffeisen Bank.
Fintech Month begins on Tuesday, September 11, with a discussion in which three fintech start-ups will share good practice in the development experience of a company in the region. Participation in the event is free of charge, and entries are made online here.
Fintech Month will have a different approach this year: some of the events in the program will be organized by partner communities that will address the fintech industry from different angles, as follows:
The Product Campaign Community will present case studies and different approaches to innovation in banking and fintech;
Security Espresso will bring into discussion the importance of security and best practices in the field, applied in the fintech industry;
BucharestJS will discuss how fintech companies address web & machine learning;
Fintech Camp will bring together fintech community leaders from other countries to discuss the steps needed to build a solid fintech ecosystem in Romania.
Startups looking for collaborative opportunities in the banking sector will be able to participate in mentoring sessions with Raiffeisen Bank professionals from the Bank's Digital Banking and Innovation team.
An important topic to be debated within Fintech Month is financial inclusion and how fintech startups can provide a concrete solution to reduce revenue inequality.
Among the invited guests to join the TechHub Bucharest in Fintech Month are: Pavel Novac (CTO, Fagura), Mehmet Memecan (CTO, Tarfin), Cristian Bradeleanu (CEO, Thinkout), Cosmin Cosma (Co-Founder, FINQware) Lina Pujol-Soliano (Co-Founder & COO, Quotanda), Melania Galea (Software Developer), Gonzalo Camina Ceballos (CEO, OpSeeker), Anatoly Katyushin (Chief Innovation Officer , Copenhagen Fintech), or Alex Panican (head of Partnerships & Ecosystem, The LHOFT).
"We are delighted to see Fintech Month grow year after year, a concrete sign of the development of the local fintech ecosystem. This year, we are glad to involve local active communities in this project that will address different topics in the field from different perspectives, and we thank them for their involvement with Fintech Camp, Product Camp Bucharest, Security Espresso and BucharestJS and, of course, Raiffeisen Bank Romania, with whom we launched this initiative three years ago," said Daniel Dragomir, Co-Founder & CEO of TechHub Bucharest.