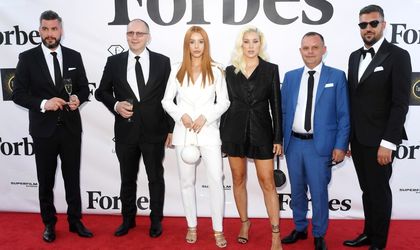 Innovation and success were celebrated at Cannes, Friday, on July 9, during the second edition of the I Succes Awards Gala! During this event supported by Forbes, entrepreneurs Andrei Ureche, initiator and founder of TOKHIT, a unique social network in the world, based on blockchain and NFT, and Cristian Voaideș, founder of TOKHIT and Welthee, an investment platform with zero commissions, received "Best NFT in Social Media" and "Best Investment Fund" awards!
An exceptional start for TOKHIT and Welthee, two startups with disruptive blockchain-based visions, for which their developers were applauded on the open stage, in an exclusive set up, with successful people from around the world, leaders in their fields of activity.
"We are honored for the awards received and grateful alike. Of course, we wanted our ideas to be inspiring and stand out nationally and internationally, and now we are aware that we are on the right track. We can only build on with the same passion and, why not, see each other again at this event that puts innovation in the spotlight. We thank the organizers for their trust!", said Andrei Ureche, founder of TOKHIT.
TOKHIT is a project that revolutionizes and innovates by being the first social network that allows the creation of native NFTs in a very fast, creative and at a very low cost, in an ad-free environment. The project, initially valued at 3 million euros, was received with openness and curiosity on the market, with thousands of people signing up to be the first to use it. The platform is dedicated to the creative industry, artists, influencers and professionals in various fields.
The Welthee platform was successfully launched in Switzerland in 2020, and, starting this year, it is accessible also in Romania. It provides investors with the opportunity to choose the level of risk they want, with zero commission and a minimum investment of $ 50. Trading on Welthee involves multiple simultaneous investments, in a minimum of 5.
"After 9 years of events in Romania, this year we have expanded internationally, with the stated goal of making this gala a global benchmark event. We want and we manage to promote successful people from all over the world for the innovation brought in business and to offer them unique experiences, in an exclusive networking framework", said Oana Irimia and Flavia Covaciu, the founders of the I Success brand.
The I Success Awards Gala is made in partnership with Forbes France, SuperFilm Studios and Fashion TV Global and focuses on entrepreneurs who bring innovation to business, international stars who have become the model for generations, and influencers and artists followed by millions of fans. Thus, important business people from the United Arab Emirates, Russia, France, England, Germany, Italy, Spain, Sweden and Romania were rewarded for their merits. The complete list of the winners can be viewed on www.isuccess.ro.
The next edition of the I Success Awards Gala will take place this fall in Dubai.