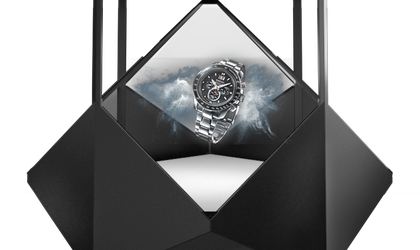 Virtual reality is transforming the product launch and brand promotion market. Today, 3D elements are sought after as the newest alternative of PR and marketing professionals who want to stay in clients' and consumers' minds. There's only one principle: the offered sensation is very close to reality, and sometimes the biggest challenge is to distinguish between what's real and what's virtual.
"The classic expo stands or video presentation from a launching event are… history."
In Romania, the most advanced holographic projection gadget is Dreamoc Diamond, unique thanks to the 3D Hologram. Inspired by the beauty of diamonds, this new type of holographic display was created in collaboration with the Danish designer Steffen Schmelling, and it offers the most refined experience. Thanks to its unique shape, the device can bring even bigger products in a holographic presentation, enabling more brands to use the Dreamoc tech.
VIDEO

"Dreamoc Diamond helps our clients to showcase their products in the most innovative fashion. We noticed that during events, Dreamoc Diamond draws all the looks because of its large display. We recommend it for events or product presentations in malls and fairs. We did some presentations for automobiles, makeup products, and even residential parks. What I'm trying to say is that the classic expo stand or video presentation from a launching event are history. Dreamoc Diamond is a revolution in its entirety, technically, concept, and creativity. It makes you want more, to create more. The best part is we have the whole package, we rent the device, but we also create content for our clients." Stated Alexandru Roibu, manager Holograma3D.
Technical specs:
4 sides in which the content is displayed
Display size: W2360 x H1710 x D2360 mm
Resolution: 1920:2160 (960×960 pixels per side)