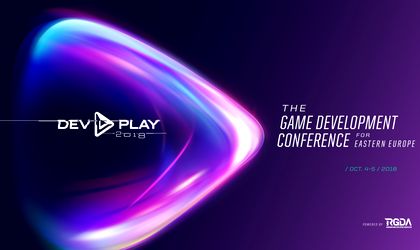 In the Dev.Play 2018 by RGDA, the annual conference dedicated to the video game industry in Eastern Europe, game development studios in Romania are looking for new employees for open positions, from artists and programmers to manufacturers and testers. Moreover, to encourage young digital art enthusiasts to join this exciting field, Dev.Play also organizes an art contest that focuses on mythology.
The most appreciated works will be exhibited at the conference during both days. The Dev.Play Conference is organized by RGDA (Romanian Gaming Developers Association), and takes place between October 4-5 in Bucharest, at Grand Cinema & More in Baneasa Shopping City.
Recruitment Center Dev.Play
This year, Dev.Play organizes for the first time a recruitment center, which aims to facilitate the hiring of talented people in the game development industry. The recruitment center will work in an area dedicated to the Romanian game development and testing studios, where participants will have access to information about Romanian studios such as Ubisoft, Electronic Arts, Gameloft, AMC, Bandai Namco and Nutaku, and will be able to apply through a digital form to any of the posts listed by them. Moreover, Q & A sessions will be held with representatives of the studios participating in the recruitment center, where they will answer various questions about the work done in a gaming studio.
"The game development industry in Romania continues to grow, with more than 6,000 people currently active in it. Our efforts to shape a large and creative community around the world, continues through a new edition of Dev.Play and a recruitment action through a Career Center, which has the mission to encourage young people to see this creative industry as a future perspective," said Catalin Butnariu, president of RGDA.
DEV.PLAY Art Contest
Another Dev.Play conference premiere is the Dev.Play Art Contest, a digital art contest, 2D and 3D, which challenges young artists to demonstrate their talent and creativity. The competition will consist of two stages, the online one, which will take place between 22 August and 20 September, and the final stage, 4 and 5 October, which will mark the best work in both categories, 2D or 3D. The main theme is mythology and for enrollment, candidates have to submit a paper that sends a strong message by representing some mythological elements that reflect certain notions of culture and folklore.
The 15 best works selected from the online stage will be displayed throughout the DEV.PLAY conference in an art exhibition and the artists who have done these works will be invited to the conference to participate in numerous panels, activities and activities. Also in the conference will be the winners for both categories of digital art, 2D and 3D. More information about the competition and registration rules can be found on the official Dev.Play homepage.
Last but not least, the list of speakers gets richer with new names like Henry LaBounta (Senior Art Director and VFX Supervisor at EA Ghost Games), Tom Giardino (Valve), Nicole Maas (Fifa Art Director at Electronic Arts) and Liz Mercuri Technical Evaghelist at Unity).
Tickets at DEV.PLAY 2018 by RGDA are already on sale at the event site and the Dev.Play Conference facebook page. Here you will find more information about the event and you will be able to watch the latest updates (location, new speakers and new special events in the conference) published by the organizers.
The Romanian Game Developers Association (RGDA) is a non-profit organization that aims to support and promote video game developers in Romania. Guided by solid values, the RGDA promotes integrity, quality, exchange of best practices, respect and mutual help as a way of developing the local industry. The objectives of the association are to inform the general public about the industry, to ensure that there are sufficient sources of training and education for those who want a career in the field, to create a strong community of developers and to represent the industry in front of the state institutions of international actors.