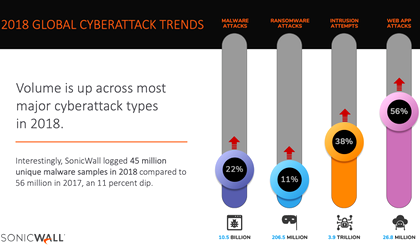 SonicWall recently released its 2019 Cyber ​​Threat Report, which provides important information on computer security with over one million sensors installed worldwide.
Analysis of the data collected through SonicWall Capture Labs throughout the year 2018 shows an increase in the volume of cyber attacks and new cyber threat tactics used by criminals. In 2018, according to the report, were identified over 10 billion attacks of various types, the highest number ever recorded by SonicWall.
"Attackers are constantly searching for new ways to get valuable information," says Bill Conner, president and CEO of SonicWall. "We have the duty to constantly counter all these attempts by cybercriminals. By sharing precious information about computer threats with our partners and customers, we give them an important tactical advantage. But it's also important to offer intelligent weapons to fight in this battle for all those in the first line," explains Conner.
As the sophistication of computer network defense methods increases, so is the case with attacks. In order to better hide the harmful elements they are trying to implement, attackers now also use ports that are not commonly used to access the Internet, such as ports 80 and 443. Based on a sample of over 700 million malicious attacks, the SonicWall study showed that 19.2 percent of malware attacks in 2018 used such ports, an increase of 8.7 percent compared to 2017.
PDF files and Office suites, tools that most employees in companies of any size and industry work with every day, have also become channels for cyber attacks. Cybercriminals now use these file formats, which most users trust, to circumvent the traditional firewall and single-engine sandbox systems to send malware.
SonicWall's multi-engine sandbox service has detected information threats streaming over 47,000 PDF files and nearly 51,000 Office files in 2018. This is a growing problem because most security solutions cannot identify and diminish hidden malware in files.
New types of attacks are also growing steadily. SonicWall Real-Time Deep Memory Inspection technology (RTDMI) has identified 74,290 new, unseen attacks only in 2019.
SonicWall's annual report is the result of SonicWall Capture Labs data collected from over 200,000 events and daily attacks involving various types of malware.
In 2018:
10.52 billion attacks were recorded and blocked by SonicWall equipment, the highest ever registered company;
increased by 217.5 percent the number of IoT attacks (targeting various equipment connected to the Internet);
2.8 million encrypted malware attacks were blocked in 2018 by SonicWall, a 27 percent increase over 2017;
An 11 percent increase in ransomware attacks;
Increased by 56 percent of the number of attacks in web applications;
3.9 trillion intrusion attempts have been identified.