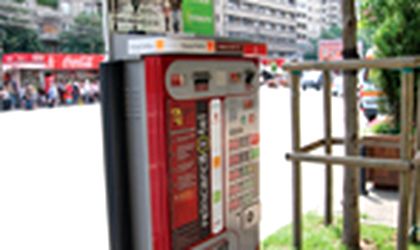 Cosmote Group signed last week in Bucharest the agreement for the takeover of Telemobil SA (Zapp). According to officials from the two companies, the firm paid EUR 207 million. It is taking over 100 percent of the shares of Telemobil SA which amounted to EUR 61 million (a sum equal to Zapp revenues in 2008), as well as Zapp's debts and obligations, estimated at approximately EUR 146 million, of which the majority represents the costs of expanding the 3G and CDMA networks. The purchase agreement was signed by Michael Tsamaz, CEO of Cosmote Group, and Nadim Akkaoui, director of corporate finance and member of Saudi Oger Group.
Cosmote had as financial consultants Citigroup Global Markets Limited (CITI) and NM Rothschild and Sons Limited. The Telemobil financial adviser was BNP Paribas Fortis, London, which has financial consultancy exclusivity in its relations with Saudi Oger, and Norton Rose LLC, London. Telecommunications consultant Nicolae Oaca tells Business Review this transaction was a long time coming, since acquisition attempts go way back, even before the Telemobil takeover by Saudi Oger.
"Finally! We will have competition on the 3G services market when the 3G network has competitive coverage. Until now there has been a duopoly (Orange and Vodafone) since the other two players who own 3G licenses practically do not matter: RCS&RDS does not offer 3G services (it only offers voice) and Telemobil, with a small coverage, was not a real competitor. Competition is in quality and quality means first of all coverage – the capacity to offer the service everywhere the user goes," says Oaca.
He adds that the move can only be beneficial for Cosmote. "3G services mainly target users with revenues for whom mobility brings value: customers from the business environment but not only them. Developing a 3G national network, Cosmote will be able to compete with the two large operators for customers in the business environment, which will lead to an increase in the number of these clients and especially of the average revenue per user," says Oaca. He explains that OTE Group, the owner of Cosmote, is a group with a strong regional presence. Its shareholder structure took in Deutsche Telekom more than a year ago, a prominent international, not only European, group.
"It is to be expected that the stake Deutsche Telekom owns in OTE will increase so it would be best to talk about DT (T- Mobile) in Romania, and not about Cosmote. DT is a very serious competitor! It will be a competitor to reckon with for Orange and Vodafone. Only now will we be able to talk about competition in Romanian mobile communications," says Oaca.
Zapp is the oldest mobile operator on the local market, having launched commercial operations in 1993. Currently, it owns a CDMA license on the wavelength 450 MHz and a 3G license on 2100 MHz. The company's 3G network has coverage over 23 cities in Romania. Zapp won its 3G license in 2007. The firm's revenues in 2008 amounted to EUR 61 million and the company had a subscriber base of 374,000. This is the first time when official figures revealing Zapp Romania's revenues and number of customers have been released, after two years when the company kept these aspects secret amid media speculation that the number of customers had dropped significantly below the figure of 500,000 that it had announced in 2007.
"This transaction comes after a period of investments in the infrastructure of the company, during which time we carried out major expansion works in the coverage area and launched new services in partnership with China Development Bank and ZTE Corporation. Zapp Romania has made important progress in developing the 3G and EV DO networks, and now has a coverage of over 70 percent of the Romanian population in the supply of high-speed mobile data," said Akkaoui.
Oaca explains that Zapp had not been able to attract too many customers because it offers 3G access to a small section of the public and CDMA services (voice and internet) with a better coverage. After 3G coverage increases, Cosmote will be able to offer the entire range of mobile services, probably under the brand T-Mobile, that the top two operators offer today: voice but especially high-speed internet, says Oaca.
"Mobile telephony is a global business and an operator without such a span does not have chances of success. The synergies of a group with a global presence are very important in today's competition. With a presence in few countries and especially as it is based on CDMA technology, which has proven to be a technological island, the group had two choices: sell or to expand. It made the easiest choice: the first one," says Oaca.
However, the transaction still has to be approved by the relevant authorities. In an official statement sent to Business Review, Orange Romania expressed its position on how this transaction would affect the telecom market. "We notice that this consolidation move has made the Romtelecom-Cosmote group concentrate a significant amount of spectrum resources, among which we mention both CDMA licenses in Romania and the 3G license. The accumulation of this high number of licenses means the Romtelecom-Cosmote group has, aside from its dominant position on the fixed access market (the local loop), a similar position on the mobile access market. We are waiting for the authority for regulation and the Competition Council to solve the situation of the CDMA licenses and the local loop as soon as possible," said Dorin Odiatiu, marketing director of Orange Romania.
Vodafone Romania officials, who were also contacted, did not state any official position regarding this transaction by the time Business Review went to print.