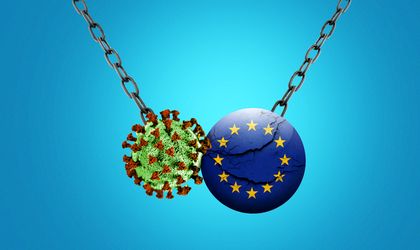 The ongoing medical crisis caused by the rapid spread of the coronavirus has led to dramatic short-term changes in the way we approach work, home, and leisure activities. In the wider Eastern European region, including Romania, the question is whether the current crisis will force a change in entrepreneurs' mindset and pave the way for a new wave of innovation.
By Ovidiu Posirca
Fixing some of the biggest problems in the world is among the most common visions among startups looking to disrupt a market or industry. The coronavirus is already a problem keeping many decision makers awake at night, while companies are competing to find a cure for this disease as quickly as possible.
The coronavirus remains a problem for business in general, but it's not a gamechanger, suggests Marius Ghenea, managing partner at Catalyst Romania.
"Conversely, some startups are being very positively impacted by their clients' behavioural changes, so we could see some of these startups quickly rising to fame and fortune, but this relies on these changes in behaviour being long-lasting and not just temporary adjustments due to the lockdown, for instance. On this one, only time will tell, but we are already seeing some trends transcending the lockdown, so we are starting to understand what could be the long-term changes," Ghenea told BR.
Some 10,000 Eastern European startups have raised their first funding over the past 5 years, while 10 startups in Central and Eastern Europe (CEE) have become unicorns, which means their valuation has topped USD 1 billion.
The coronavirus crisis presents a unique combination of opportunity and risk.
"There will be a lot of market changes as large companies will either fail to adapt or invest heavily in pivoting – so we might soon see either acquisitions or market leader swaps, with consumer trends changing for the medium-to-long term. In any case, Eastern Europe has a chance, but only if entrepreneurs are brave enough to step up and act fast. Time will tell, and we will see that soon," Mihai Rotaru, the founder of Neobility, told BR. Few businesses in Romania are attempting to expand in the region or internationally, but some new startups are taking the global route and raising money from international investors.
"They will pave the way for others to follow. To me personally, it doesn't feel like we've reached critical mass for this path to become mainstream. At the same time, the coronavirus situation has added very strong elements to the foundation. In the Digital Economy and Society Index (DESI), Romania ranks second to last. Without digital competencies, entrepreneurs lack the basic tools to expand internationally. COVID-19 has definitely changed that, both in terms of technology adoption as well as in planning ahead while taking digital transformation into account," says Bogdan Litescu, CEO Plant an App.
Entrepreneurs who have been struggling for years and have built up resilience will make a name for themselves on the international market once they get the missing ingredient, says Litescu. This will happen despite the medical crisis or any other daunting challenge a business owner faces at some point in their activity.
Eastern Europe stands out, EU boosts help for firms
Emerging competitors in Central and Eastern Europe are starting to challenge the dominance of Western European companies, according to a Financial Times ranking of the 1,000 fastest-growing companies. "We have seen a democratisation of startups — they can be anywhere," said James Wise, partner at London-based venture capital firm Balderton Capital. "The access to capital and ability to run off cloud infrastructure means the range of startup hubs has grown immensely," according to the Financial Times. Meanwhile, the European Commission, the executive arm of the European Union, has awarded around EUR 166 million to 36 companies set to combat the coronavirus pandemic. Another EUR 148 million will be granted to 36 more companies set to contribute to the recovery plan for Europe.
A record number of around 4,000 startups and small and medium businesses (SMEs) applied to the EIC Accelerator pilot in March, of which over 1,400 proposed innovations that were relevant to the coronavirus outbreak.
Another EUR 150 million was recently allocated to this funding round, bringing the combined total to over EUR 314 million. The startups and SMEs selected for support come from 16 countries, including 12 EU Member States, the UK, and 3 associated countries, according to the EC.
Although it's hard to tell how many startups will survive the disruptive effects of the coronavirus, a survey by Paris startup campus Station F, which polled investors about the impact of the COVID-19 crisis, brings some good news, as it found that 94 percent of VC-backed startups would survive the next six months. "It's a solid ecosystem that's made changes, but really hasn't been shaken up to the point of in-depth soul-searching," said Roxanne Varza, director of Station F.
Some 1,000 companies across Europe — in France, Germany, and the UK — as well as in the US and Israel were represented in the survey. Despite the crisis, almost half of respondents said that they would maintain their plans to expand into new markets. Moreover, startups continue to raise money. Fundraising rounds were delayed for 40 percent of startups during the crisis. That's the share of companies that are trying pitch investors for money now.