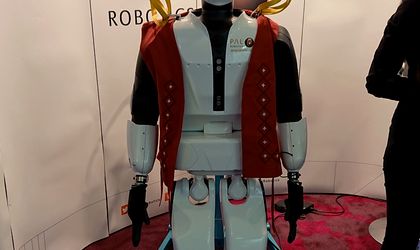 Robotics and Artificial Intelligence are a business in which more and more money is being invested, said the Minister of Communications and Information Society (MCSI), Alexandru Petrescu, at the opening conference of the European Robotics Forum event in Bucharest.
"Everything we do right now depends on technology, and the Internet of Things concept is gaining ground. Robotics and artificial intelligence are a business in which more and more money is being invested. We must create a European robotics league. Only together we can build new businesses based on technological development," said the official.
At the same time, the Communications minister mentioned that, since taking over the Presidency of the Council of the European Union, Romania has succeeded in finalizing a large part of the digital sector files.
"There are so many things to say about technology. It is important that Bucharest is the capital of robotics for three days. We recently organized the informal ministerial meeting dedicated to the digital sector in Bucharest, where we discussed reducing the gap in this segment between the countries of Europe and Asia or the American continent. I can tell you that Romania has closed a large part of the important dossiers on the digital sector, almost three months after taking over the EU presidency," said Petrescu.
European Robotics Forum
More than 600 exhibitors from Europe, Asia and the US are in Bucharest to participate in the first edition of the European Robotics Forum on 20-22 March.
The event, organized under the Romanian Presidency at the Council of the European Union, brings robotics companies that will present new products that are being developed throughout the year and which they promote in order to identify new partners and markets. Also, 50 discussion workshops and a robot exhibition will be held in the forum.
Romania is present at the European Robotics Forum 2019 with a number of companies in the field, such as: Bucharest Robots – the first humanoid robots company in Romania, Comau, Elektrobit, Hyperpragma and INCAS – the National Aerospace Research and Development Institute.
Talos, the robot
The Talos humanoid robot, created by the Pal Robotics experts, arrived in Bucharest during the first edition of the European Robotics Forum 2019. Estimated at a value of EUR 1 million, the biped that stand 1,75 cm tall and 95 kg is capable of speaking nine languages ​​and interacting with multiple people simultaneously. The humanoid also walks, dances and can do housework.
For the European Robotics Forum in Romania, Talos chose to display itself in a national folk costume, equipped with a traditional Romanian style.
The Umanoid can pick up objects up to 6kg, is equipped with Wi-Fi connectivity, works with a lithium-ion battery on which it can go for 1.5 hours, and stand by stand for up to 3 hours. On the software side, Talos comes with the OS (Ubuntu LTS, Linux RT Preempt) and runs on the Intel Core i7 platform.
Together with Talos, at the robotics event in Bucharest there are also Modulab robots known for interactive installations and technological applications that they develop in art, advertising and museums. Modulab's design and technology lab experts, with a 10 year experience in prototyping and technological innovation, are launching the first industrial robot prototype developed and manufactured in an independent setting in Romania. This is Sweep, the industrial cleaning robot, which can be admired at the Bucharest exhibition.
Since the spring of this year, Modulab has launched itself in the field of robotics in all its aspects, namely: industrial robotics, the development of a self-cleaning robot for large spaces, entertainment and public relations, art and culture.
In the past two years, Modulab's design and technology lab experts, with a 10 year experience in prototyping and technological innovation, have developed the InMoov open source humanoid robot project, which has brought a number of changes, both on the hardware and software. At this moment, the robot Friday, as Modulab is baptized, is already a popular figure in local folk culture, with video appearances and public events. In fact, in the fall of this year, Modulab will organize a vast cultural project based on robotics and artificial intelligence, which will end with an exhibition of robots as art and robots in art.
Other robotics innovations that can be seen at the European Forum Robotics 2019 are: Lux.ai – robots used for children with autism, Bucharest Robots, smart handsets – Schunk, Shadow and QB Robotics, modular robots that can simulate hands, legs (Hebi Robotics), logistic warehouse robots, such as Amazon and Robotnik, autonomous machine technologies, robots for future factories, most working with people (Universal Robots, ABB, KUKA and Rolls-Royce).
Humanoid robot market
Recently released reports show that the humanoid robot market will grow spectacularly by 2023 to USD 3.9 billion from USD 320.3 million as it is today. Market specialists say that this growth will be due to the constant development of robot capabilities and their increasingly affordable prices, but also due to the changes that will take place in our society.
Studies also predict an increase in the number of humanoid robots used in education, but also in the retail and hospitality industries, with the aim of personalizing the customer experience as much as possible. Also, the medical and logistics industries will integrate more Artificial Intelligence (IA) capabilities into these robots to meet the needs of these areas.
At present, there are several industrial robots integrating companies in Romania and one dedicated to humanoid service robots.