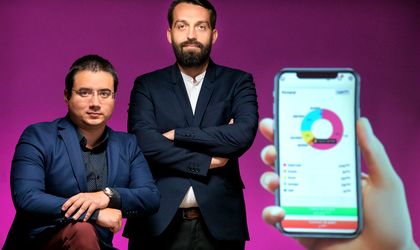 Cassa, an accounting software that contains elements of artificial intelligence and machine learning, aims to obtain 200,000 euros by listing on SeedBlink, the largest equity crowdfunding platform in Central and Eastern Europe.
A Corporate Lead Investor is leading this financing round of Cassa; details about its name and the invested amount of money will be disclosed at the time of finalizing the transaction.
Cassa is a Software as a Service application that orders in a smart way the flow of documents and simplifies communication between accountants and entrepreneurs. The application was launched in June this year by Cornel Fugaru (34 years old) and Daniel Teodoroiu (32 years old).
"Accounting involves a lot of manual work – the operating part of the documents represents between 60-70% of the working hours of an accountant. At the same time, accountants are receive or are required to provide documents on several channels: e-mail, phone call, SMS, Whatsapp. We wanted our solution to be an integrated one: on the one hand, to simplify communication, and on the other hand, to provide a "dashboard" of the company through applications like billing, archiving, financial reporting, system of notifications. Briefly, to save the time of accountants and entrepreneurs. We hope that the listing on SeedBlink will help us to develop the programming, marketing and sales team so as to create a product that will reach as many companies in Romania and the region as possible", says Cornel Fugaru, co-founder and CEO of Cassa Software.
Digitization and thus the elimination of manual work of accountants is based on a technology of optical character recognition (OCR) that allows the transformation of scanned documents, photographs, PDFs into editable documents. For example, the OCR system gives accountants the ability to export to their own accounting software the invoices issued by the application or received through it. Regarding the communication between accountants and companies, the message flow is similar to the Facebook's feed. Thus, users can comment, like, share or download the documents.
"There are several ways to digitize traditional accounting. Some people start with the digitization of accounting firms and others with the one of accounting records. CASSA innovated by finding a pragmatic and practical solution for digitizing communication between accounting firms and entrepreneurs. We are happy to be able to help with their international scaling plans", states Andrei Dudoiu, co-founder and CEO of SeedBlink.
The application has 500 users – accounting firms and their clients. The platform – a B2B2B type – is addressed firstly to accountants, but they have the opportunity to become resellers for their own accounting clients.
Vision: accounting services to be seen as premium
By the end of this year, the company's management aims to reach 2,000 customers, and by the end of 2021 to have 15,000 users.
"Our vision is to make the services of accountants to be considered as premium both in terms of perception and from a financial point of view. We are glad that we already have the first signals in this regard. Specifically, we work with accountants who told us that they managed to attract new clients because they have been using Cassa", adds Cornel Fugaru.
One of the factors that led to the rapid adoption of Cassa services is the Coronavirus pandemic.
"In the context in which people wanted to go online as much as possible, to avoid touching documents, our solution suited them perfectly. At one point, we created a message about us on an accounting group and we received over 60-70 requests for quotation. Somehow, Cassa was the right product for this extremely difficult moment", explains Cornel Fugaru.
Plans for England and Central and Southeastern Europe
At this moment, the two co-founders are also in talks with a UK accounting firm to implement the solutions offered by Cassa. For the next year, the co-founders plan to expand regionally in Central and Southeastern Europe. Among the first countries targeted are Austria and Greece – in these markets the company is mainly targeting the enterprise segment.
"In the last year and a half we have tested most of the available OCR solutions and I am sure that our technology is much more efficient and scalable than these. We are still in testing, but when our final version of OCR will be live, we will sell it internationally. We rely a lot on computer vision and machine learning technologies for processing and operating accounting documents, but we also look at other possible verticals such as business forecasting, risk assessment in which we can apply the services and technologies developed by our company", says Daniel Teodoroiu, co-founder and technical director of Cassa.
Cassa's management estimates revenues of 500,000 euros for 2021 if it manages to obtain the 200,000 euros through the campaign on the SeedBlink platform. Also, the co-founders estimate that in 2024 it will reach a turnover of 7.6 million euros (the amount includes only Romania).