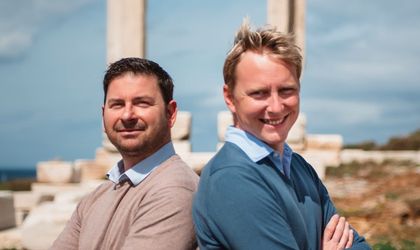 CaptainBook.io, a Greek online platform that connects tours, activities & experiences providers to local trusted resellers such as hotels, Airbnb hosts, and travel agencies, has raised € 250,000 in a pre-seed funding round led by SeedBlink, the European platform for co-investing in tech startups.
The founders will use the investment to drive product development and accelerate CaptainBook.io's expansion to Eastern Europe – especially Romania and Poland – and in Spain and Italy.
CaptainBook.io brings experience suppliers online by offering them a booking engine that connects them to a network of trusted local resellers such as hotels, Airbnb hosts, and travel agencies. Through CaptainBook.io, the experience-suppliers can create, manage, distribute and sell from a single platform. CaptainBook.io is available to all businesses wanting to ingest and sell experiences with real-time availability and booking confirmation (airlines, destination management organizations, etc).
The company was founded in 2021 by Jerome Bajou and Luca Lattanzio and has already helped more than 280 suppliers go online, offering more than 520 experiences in five countries.
Captainbook's clients and partners portfolio include GetYourGuide, Project Expedition, Viator, and Civitatis.
"Since we started in 2021, we have fought to empower any small-to-medium-sized travel experience business worldwide to get started and grow their business through technology to help them be more independent from large Online Travel Agencies. This round will further boost our product and services, helping more small and large travel experience companies. Within this investment, we will heavily focus on their satisfaction, investing all funds in improving our product, and expanding our services to the rest of Greece, Romania, Poland, Italy, and Spain", said Jerome Bajou, CEO and co-founder of CaptainBook.io.
—
"Our booking engine helps customers to transform their existing website into an online shop, with payment processing with a no-code technology. Some of the operators have scaled their business through CaptainBook.io using more of our advanced features – automating payment, communication, and team management – helping them save time. I'm very excited that with this funding round, we can execute our vision and take a new approach to help our customers to digitize their offer", stated Luca Lattanzio, COO, and co-founder of CaptainBook.io.
—
"When we first met the Captainbook team, we were impressed by their in-depth knowledge of tourism. We are thrilled that our investors chose to participate in their pre-seed round and support them in their mission to transform the infrastructure that underpins the sale and distribution of travel and experiences. Some of them were eager to assist in paving the way for Romanian expansion," said Andrei Dudoiu, Managing Partner at SeedBlink.