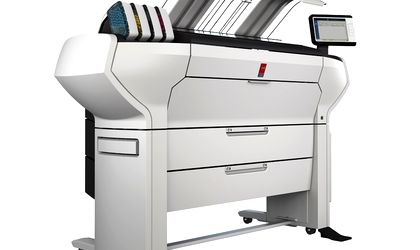 Canon Europe has launched the new Oce ColorWave 3000 series of large format printers for CAD, GIS, and low volume graphics applications. The new equipment addresses architectural, engineering, construction and manufacturing (AEC & M), as well as business environments. With the new series, customers have the flexibility to print a wider range of applications, from technical documents, sketches and black and white maps to interior color graphics and short-term outdoor graphics as well posters and street banners.
The new Oce ColorWave 3000 series contains two different models: the 3500 and the 3700, both of which are ideal for medium-sized companies, helping to reduce work time and speed up investment recovery.
Oce CrystalPoint
The new equipment features the renowned Oce CrystalPoint technology, used for 10 years, combining the best toner and best ink from the Oce TonerPearls range that are melted and combined as a gel that crystallizes on the media used. Since the introduction of Oce CrystalPoint technology in 2008, Canon has installed over 10,000 devices around the world with this technology. Oce CrystalPoint offers customers the opportunity to work with paper types that have lower costs without compromising on quality. The devise print materials instantly dry, can be quickly manipulated, stacked and folded for immediate use.
The use of Oce TonerPearls technology ensures strong adhesion and scratch protection and provides clear lines with minimal image noise for great quality documents and graphics.
Finishing printing
The Oce ColorWave 3500 has a media capacity of up to four rolls and customers can automatically change print media for faster production, while the Oce ColorWave 3700 has a media capacity of up to six rolls and can handle up to 1,200 m and can print up to 368 square meters of posters every day in fast mode.
The 3000 Series suite benefits from the Oce ClearConnect software suite that helps businesses manage complex print tasks and provides a more flexible and intuitive interface for managing files to be printed.
To avoid misprint or delay of materials, Oce Publisher Select allows customers to automatically preview print jobs. For this purpose, Oce Print Assistant automatically suggests the most appropriate print mode, detecting the required print media, so the printer chooses the appropriate media roll without the need for manual intervention.
Oce Folder Express 3011, Oce Folder Professional 6011/6013, and Oce Stacker Select offer a compact printing and finishing solution featuring folding and stacking options for work environments where rapid production is required.
Designed for small work environments, the Oce ColorWave 3000 Series with Folder Express 3011 has a 25% lower footprint than the previous Oce ColorWave 500 and ColorWave 700 with the associated folding option.
More than technical applications
The Oce ColorWave 3000 Series is easy to use and enables customers to offer new services and applications, exceeding the limit of black and white technical drawings and attracting more workloads at a premium quality.
The Oce ColorWave 3700 is compatible with nearly 40 different media types and thicknesses up to 800 μm. With Océ MediaSense technology, the print space between the media and the print head is automatically adjusted at an optimum distance, allowing you to print on a wide variety of media, including uncoated paper.
The new Oce ColorWave 3000 series will be available in the third quarter of 2018.
"Regardless of whether they want to continue to print CAD documents or want to expand their range of applications by delivering low- and our environment, our customers will find that the Océ ColorWave 3000 Series products offer the opportunity to put both versions into practice. From an innovative vision, to putting it on paper and then playing it in color images, customers can use the Océ ColorWave 3000, an efficient color printing system, to always get prints of great quality," said Carel Raijmakers, director, Industrial & Production Solutions, Imaging Supplies, AEC & M and TDS, Canon Europe.