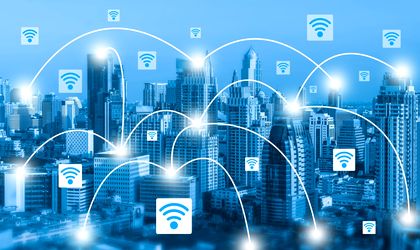 A new research conducted by ESI ThoughtLab and Oracle gathered benchmarking data from 100 leading cities in the US, Latin America, the Asia-Pacific region, Europe, the Middle East and Africa, showing that by 2020 more than 30 billion connected devices will generate enough data for cities to become truly "smart." For these cities a new need arises, for a cloud infrastructure that will integrate and analyze this data in order to improve all aspects of life for their citizens, from public services to construction projects.
Out of the 100 studied cities, Bucharest ranks 61st, being placed in the "Advanced" category for how it uses cloud and advanced technologies in order to make the urban experience more connected and citizen-centric. Cities in this category, such as Bucharest, have made progress in the interconnectivity of their urban environment and have benefited from smart tech projects. The study shows that the Romanian capital has recorded big improvements in areas such as mobility and transport, water and electricity supply, or government and finance.
The biggest challenges for Bucharest though, are its capability to attract and retain companies, financial and budget constraints, demographic and diversity changes, the lack and weak accessibility of housing, or physical and digital security risks. The study shows that the average return of investment for hyperconnected projects range between 3 and 4 percent, and while cities become even more interconnected, their ROI keeps increasing. Advanced cities such as Bucharest can achieve a ROI of 2.6%, meaning yields of up to USD 40 million.
Other observations of the study include:
AI, Blockchain and biometry are increasingly prevailing. Cities use these technologies in important urban categories such as IT infrastructure, telecommunications, mobility and transport, payment methods, financial systems, or physical and digital security.
Cyber-security needs careful planning and can be very costly when it's not implemented accordingly. Half of the city officials questioned in the study have declared they feel unprepared for cyber threats.
Smart tech projects improve population happiness. The involvement and satisfaction of citizens is one of the top 5 priorities for smart cities.
Bucharest introduced a Smart Strategy in 2018, which was adopted as a strategic document by City Council. The document, drafted by Deloitte who won the 100,000 euro contract to create the city's smart strategy, talks about a implementation period between 2018-2025 and the main areas of focus will be  local governance and administration, smart energy (electricity, water and heating), public safety, healthcare, infrastructure, IT&C, transportation and mobility, education, environment and tourism.
Photo: www.smartcitiesworld.net