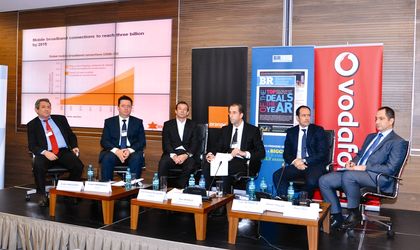 In a country where 54 percent of the population does not have internet access and the government must meet its EU commitment to supply services to 3,648 areas without coverage, telecom operators need to make investments on a price-pressured market, with a very low average revenue per user (ARPU) and an array of new technologies that can make small players big and big players small. Pundits who attended Business Review's Focus on Telecom event shared their views on broadband infrastructure needs and how to capitalize on value-added services.
 Otilia Haraga
"In Romania, mobile internet has in a way compensated for the lack of fixed broadband infrastructure," said Catalin Marinescu, president of ANCOM, adding that the penetration of copper cable in Romania is very low compared to other countries. Romania has seen 3 million fixed broadband connections and 6 million connections via mobile internet.
Raoul Ros, CEO of Alcatel Lucent East Europe & Romania, said that to deploy broadband infrastructure at a national scale requires great investments in terms of both time and money, which is why the state and private investors need to work together.
The European Union has a target for all member states to provide full national coverage with internet connections faster than 30 Mbps, while half of all households should have an internet connection that is faster than 100 Mbps. "The cost of such a plan in France was estimated at EUR 25 billion over 15 years," said Ros.
He added that EU targets were set with fiber optic networks in mind. However, this is costly and not available everywhere. "You cannot reach a remote village or a few scattered houses in the mountains with fiber optics. The plan should include different technologies that are already deployed in the market," he said.
However, Romania scores better on affordability, as the market with the lowest prices in the EU 27, added Fallacher. "The ARPU in this country is about EUR 6-7 EUR. In a country like France, the ARPU amounts to approximately EUR 30, so about five times more. If you compare the purchasing power of the two countries, you will see that telecom services here in Romania are more affordable," said Jean-Francois Fallacher, CEO of Orange Romania.
In spite of the market specifics, prices for equipment are as high as everywhere else. "It is one thing to sell a piece of equipment in France where the ARPU is over EUR 30, and quite another here where the ARPU is much lower, which means the business model needs to be different as well," commented Babak Fouladi, CTO of Vodafone Romania.
"Telecom is a very capital intensive business. We don't have big factories to run, but Orange has in this country more than 4,000 antennas that we need to maintain, and these are very high investments that you make for at least for 5-10 years," said Fallacher, calling for greater predictability from the regulating sector. Moreover, technology is constantly changing and evolving. "3G is not yet coming to its profitability and LTE is already coming over," he said.
The European Commission is looking at adopting the Radio Spectrum Policy Program next year, pushing for the transition from analogue to digital terrestrial TV so that some of the TV bandwidth will be used for new technologies like LTE, said Marinescu of ANCOM.
"In Romania we are not very far along in the transition from analogue to digital TV," he said, adding that ANCOM will organize an auction next year for the first LTE licenses in the frequencies of 800 Mhz and 2.6 GHz. "We are in advanced discussions with the Ministry of Defense to release the 2.6GHz band. We hope we will hold the auction by the end of next year, which means we will probably be able to have these new technologies operational in 2013," he predicted.
In turn, operators also shared the experience they have had with LTE. "Orange had a trial license from ANCOM at the beginning of this year. We had four LTE antennas and we tried it, and it worked very well. We enjoyed wireless speeds of up to 100 Mbps," said Fallacher.
Meanwhile, Vodafone has gone live with an LTE network in Germany. "We have seen the usage and how the limitation of some local loops can be addressed with LTE. We have a full IP network which is one of the requirements for LTE. Our investments in our backbone have been made with the anticipation of LTE spectrum availability," said Fouladi.
Marinescu commented, "What I want to underline is that new technologies usually face problems of trust." This is why he does not expect LTE to be adopted by the customer very quickly. Since each country is different, Marinescu said the wisest choice would be to "let the market set the level of the LTE license tax."
In conclusion, LTE will inevitably reach Romania too. "Even if people do not have a lot to pay for these services, they are expecting the services," said Ros.
Despite being a market where price pressure is high, Romania is also a very technologically driven country. Quoting a survey on how Romanians use their mobile phones, Dragos Chivu of Vodafone said 45 percent do so even before getting out of bed. Surveys show that local users care less about how long the battery lasts and more about what they can do with the phone.
Romania is following a global trend. "In 10 years, we will go from 5 billion smartphones to 50 billion, while payments via mobile phone will exceed payments via banking cards," predicted Catalin Cretu, country manager Visa Europe- Romania.
The question is how telecom players can capitalize on the market's hunger for added-value services.
Using the Samsung experience in Romania, Sorin Manea, telecom division manager with the company, said that on Samsung Apps, the Bada operating system alone has seen 22,000 applications, of which 2,100 were paid and the rest were free of charge. Near-field communication (NFC) is another area that operators are investigating. "We have in our portfolio NFC handsets and we will obviously bring these to Romania when our partners request this. In one form or another – I cannot go into further detail – this is already happening in Romania," said Manea.
"With NFC, history will probably repeat itself as in the case of 3G, meaning you need a critical mass of handsets before you can envisage doing anything seriously. You need to have the entire ecosystem in place," said Julien Ducarroz of Orange.
 
otilia.haraga@business-review.ro