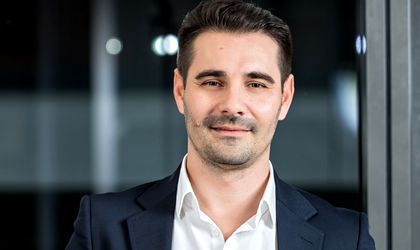 Traian Petric, National Sales Director for Romania and Republic of Moldova, APC by Schneider Electric, talked to Bussiness Review about digitization and his company's efforts to streamline operations and increase efficiency. Read it all in the exclusive BR Interview below.

How did the fast digitization impact the data center business of the company in Romania?
As per Gartner, end-user spending on global data center infrastructure is projected to reach $200 billion in 2021, up 6% from 2020. With additional growth in the forecast, the time to focus on efficiency is now—and reevaluating strategies with a four-part approach which includes time-to-market, people, capital, and processes that can help streamline operations and increase efficiency. As the fast digitization is not going to slow down in the near future, we are preparing our offers to allow for scalability, flexibility, remote management and maintenance and cost-effectiveness. For example, the EcoStruxure Pod Data Center can adapt to the specific requirements of each data center, simplifying the design and installation process and reducing capex cost by up to 15%, while our Next-generation Data Center Infrastructure Management software solution, that is cloud-based and is ideal for managing and monitoring edge sites, also provides end-users and partners the ability to manage sites remotely and enables the collection and analysis of data that leads to better performance with predictive capability.
Locally, I can say that we feel this digitization wave since a few years ago. This was highly accelerated by the pandemic environment. Many companies have become forced to manage more data, because they had to use, all of a sudden, more intelligent devices and applications for their businesses. If we keep in mind that all these devices had to be connected, controlled, managed or implemented from a distance, we have there a fuller picture of the amount of data that was generated and had to be managed.
We expect to see more and more investments in solutions such as Data Center Infrastructure, Edge Solutions for a better management, efficiency, scalability and remote monitoring with our EcoStruxture software. In this context, we are coming to the market with a full offer of Data Center Infrastructure that includes UPS, Racks & Accessories, Cooling equipment, Service and Monitoring Software. All these combined in solutions are helping our customers achieve better performance, higher efficiency and predictive capability
Were there any new requirements from new or existing clients in light of the heavy usage of internet lately?
This really depended on the type of client, on the individual level of digitization of each of them and on their specific interest. Some needed to grow fast, some needed to sort the issue of remote management and maintenance, some others needed to acquire their first micro data center (or a modular one) and last but not least some of them were looking for data center services. Our offering covered all types of needs, from stand-alone modules that could be easily added to existing data centers, to software packages that enable people to manage all key operations remotely and monitor the status.
Most of the new requests are coming for Colocation & Service Provider Segment, Public Sector but also we see an increase for Healthcare and Industry. It is clear that the Colocation and Public Sector segments need to invest because of the pressure generated by higher data volumes to be managed, especially in this context of digitization.
The Healthcare Segment is quite new, as during the pandemic healthcare institutions needed to secure their medical applications more than ever. However, in this segment, we also see a new trend of Edge Solutions for Remote Diagnostic Application. The Industrial Segment and Food & Bev in particular is also accelerating as we see their need to secure their Industrial Applications, Production Lines and to be more efficient
What were the best-selling products and services from Schneider Electric during the past year – how were they different from those selling fast during the previous years?
Clearly, the Solution Products were the best selling products, especially the 3-phase UPS,  EcoStruxture IT Software Solutions with eServices attached. Now more than ever, our customers need to secure their applications and hardware in order to have business continuity and high efficiency for a better resource management. I'm glad that we have a full portfolio of products to address these needs, as our 3ph UPS range has just been refreshed with lots of new technology products such as the Galaxy VL Series with LI-ION batteries and high efficiency. Services also was an important segment, which showed growth, as many customers tried to refresh their installed base to be at right level of availability and functionality.
What were your best products for SMEs and professionals working from home? How much has the demand for such products increased over the past year?
Our latest addition in our 1 phase product portfolio helped us deliver best in class, easy to use, maintain and monitor the UPSs while delivering secure power to the critical equipment, either to the SMEs or to the professionals working from home. Thanks to our complete range of UPSs, the added value our customers received through our EcoStruxure IT solutions and the professional services we have provided, we saw a soaring interest in these products in the past year. This sets up even greater expectations for this year.
What products and solutions to support the new hybrid way of working have you got in your portfolio?
If we talk about large corporate clients, data center clients, over the past years, we have developed a full ecosystem that allows people to manage and maintain their data center operations remotely – EcoStruxure IT delivers cloud-based management and analytics enabling users to prevent downtime. The software and digital services are built on an open, next-generation platform, that is vendor agnostic, enabling  IT  professionals to optimize the management of edge computing sites by reducing cost to service and mitigating risk while improving availability.
For professionals who have been forced to work from home in the past year or so and will continue to spend time working in a hybrid system, we have a full range of UPS equipment that is reliable and safe and is able to avoid downtime and loss of precious data.
We are coming with lots of options for this kind of hybrid way of working, as most of our products are connected, which mean that can be managed or monitored remotely. Starting with the 1 phase UPSs with SmartConect port, continuing with complex ones such as 3 phase UPSs, Cooling, PDU, Netbotz for environmental monitoring, all of them are network monitoring ready, which makes it very easy for the specialists to manage them or to maintain them remotely. All these can be managed trough EcoStruxture IT Software solution which is vendor agnostic, meaning that it is capable to integrate not only our own hardware, but also equipment from some other vendors.  EDGE solutions are in high demand since they offer on-site connection between Cloud to End Point applications, very easy to manage locally or remote. All these solutions offer high-speed reactions on-premise but also remote, improving efficiency and increasing availability.