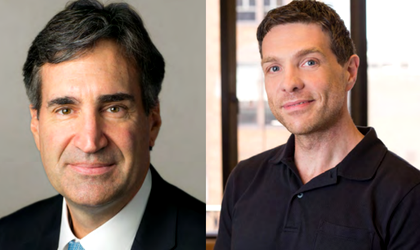 In order to find out more about Cognizant Softvision and their view on the digital revolution and the world we talked to Malcolm Frank, President of Cognizant Digital Business, and Andres Angelani, CEO of Cognizant Softvision.
Why is Cognizant Softvision, a Cluj-based company, organizing an event in Bucharest?
Malcolm Frank: Cognizant Softvision is very well known in Cluj, as it has a connection to the university system and the business community. But if you look at the IT industry in Bucharest, it is four times the size and we need to have a network here, bring together all the business partners and reach out to the broader community. This is the reason we are organising the 2019 Programmers' Week Conference here and we are planning to open offices as well. 
Andres Angelani: It is an outreach to the community here. Romania has all the right ingredients for a thriving IT industry. It has the structure, the culture, and it's built into the universities, as the main training platforms have a much stronger computer science base and we can build on that. We think that an engineer is more like a creative technologist. 
When are we going to see machines that are able to write software like a human?
Malcolm Frank: The construct of the algorithms is already there. The way you build up an engineer, a creative technologist, is very unlikely to be replaced, but the factory-made developer who knows how to develop code in a procedural way has already been replaced. Machines can produce code now. There are still massive back-end systems that will never be replaced, such as the reservation system or flight operation system for an airline. Those are huge systems of record and that is where the automation is going to occur. But if you look at how much software is going to be needed to actually create this digital experience you'll see that it is going to be a massive undertaking and will need a creative process. In the meantime, if you go to Google, Facebook or Amazon and ask them when programmers will go away, they would say that this is the weirdest question they've ever heard. Some will disappear, but not all of them. Our view is that we are in a panic and that it is caused by the fact that we don't have enough people. And that is actually why we are here. 
Andres Angelani: If we take art for example, we can probably build a mathematical model to create a painting. But you cannot replace the way you feel when you paint – it is a very human thing. We can try to model that using a computer code, but we are light years away from that. We don't think that the creative element is replaceable. At least we haven't found a way to replace it. 
Malcolm Frank: Speaking of replacing humans with machines, it is interesting to see that the most industrialized and highly-automated countries, like Japan, South Korea or Germany, are the ones with the lowest unemployment levels. 
How far into the Industrial Revolution 4.0 are we today?
Andres Angelani: As far as Revolution 4.0 goes, I think we are in the middle of it. We are now emerging and what we are trying to do is maximise that for all. We need to put that talent into the middle of the business in order to prepare for the future, otherwise the growth will stall. 
Digitization is happening even if we don't see it. How far off is the digitization of all businesses?
Malcolm Frank: It is not that far. A lot of our clients are going through pilots, doing prototypes, trying new things. But we're actually seeing a crisis inside the executive teams in traditional industries like big banks, insurance companies, manufacturers, because they have been talking about digitization for five years now. So they sit on the board and someone asks a simple question: how will this be reflected in the revenue? How do we increase margins through this? The managers all start staring at their shoes because it is still hasn't reached the core of a lot of these businesses. And they are really scared. I played a game with a client and asked: if Google decided to come into your line of business, what would you do? That scares the heck out of people because they wouldn't be able to stop it. 
Facebook announced the development of Libra and everybody went crazy. Why?
Malcolm Frank: It's a matter of trust. If a big bank had announced that, people would have been a lot more open to it. Facebook's model is to leverage your information. So, when Libra came along, people thought they were going to give all their private financial information to an organisation whose core business model is to share that information. All the changes that we are going through are huge; they are bigger than we realise. We may look back in 2030 and point to 2018 or 2019 and say "oh, that made all the sense in the world, but when we were in the middle of it we didn't understand it." We're going through shifts of the technical, economic and political foundations. They're all going through these renegotiations and transformations and it's all due to digitalization. In the industrial world, the raw assets were oil and steel. Some countries were huge beneficiaries of these geographies. If you look at the United States at the time, they had the home-field advantage, as they had oil and steel, the foundation to move ahead in the industrial world. The digital world's raw asset is brain power. And we can all get our hands on these tools and assets, but the winning factor is the talent. That is going to be the distinguishing characteristic in this race. 
I travel a lot and I see a lot of patterns. There are communities around the globe where technology has entered the culture and it has gone right through to the education system. That has been the case in India for the past 20 years – there is this awakening, the smartest kids in school no longer become doctors or lawyers; they go straight into information technology. And we've started to see this in Eastern Europe as well. People here are talking about Old Europe and New Europe, but the East is the new. If you look at universities in Spain, Italy, France, the best kids are not going into technology, they still want to go into banking, they want to be doctors or lawyers or work in government. I think that is great news for the next generation of Eastern Europe; they have the means of production and the talent and it's now part of the cultural imagination. It is the same in the United States; while people living on the coasts have changed, the middle of the country is catching up.
What is Cognizant Softvision doing in fields like Artificial Intelligence?
Malcolm Frank: We focus on applied AI. The time of just talking about it is pretty much over. Applied AI manifests itself in two places: one is customer intelligence and the second is operation intelligence. Customer intelligence is how we help a hundred-year-old company play the FAANG (Facebook, Apple, Amazon, Netflix and Google) game. If you look at Netflix, Amazon, Google, they are all "watching" us. The good thing is that they give us the right things seen through the patterns. So we work with a lot of clients on customer intelligence, like big retailers trying to replicate the Amazon experience in a physical space. 
Where do you see Cognizant Softvision five years from now? What about the general economy?
Malcolm Frank: Generally, I am quite optimistic. Softvision has been working for the Silicon Valley economy, for the companies, building products for them. But that is just 5 percent of the market. The other 95 percent is just standing around this 5 percent square. And every company outside the square needs to get this digital capability. For us it's just meeting that challenge on how to get those companies to turn digital. As for the overall economy, many say we'll have a recession in  2020 or 2021. But a storm in nature is sometimes good as the trees that need to die are removed. The same can be said about companies.