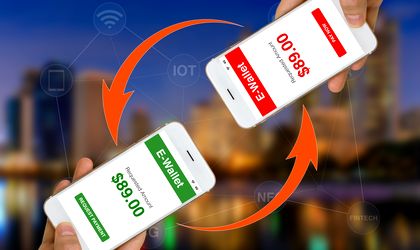 The fintech industry is one of the most disruptive sectors and it will change the way consumers use money and banks. The services provided by fintechs are mostly new and yet to be regulated, and their synergy with banks will see the sector thriving during the coming years.
By Aurel Constantin
The last decade has seen a surge in the number of fintech startups, using technology to make it easier for people to make payments, transfer money or exchange foreign currencies. These innovative platforms have not only eaten away at the monopoly of banks and other established financial players, but they've also allowed customers to take greater control of their finances.
The global fintech personal finance industry is expected to be worth USD 1.5 trillion this year, according to data gathered by LearnBonds.com, growing by a massive 45.1 percent year-on-year. This bullish trend is set to continue over the coming years, with personal finance transactions set to come in at almost USD 2.7 trillion by 2023.
In 2017, personal fintech transactions hit USD 291 billion in value, according to Statista data. Since then, the market value has had a fivefold growth, jumping to USD 1.5 trillion globally.
The number of users in this sector of the fintech market is forecast to hit 79 million this year, growing by 49.5 percent compared to 2019. Over the next three years, the number of people using fintech personal transactions is expected to almost double and jump to 147 million worldwide.
Investing through online platforms, known as robo-advisors, is the largest part of this sector and is expected to top USD 2.5 trillion giving it a 94 percent share of the fintech personal finance market by 2023. The robo-advisory market grew out of the 2008 financial crisis as small investors looked for wealth managers who charged lower fees, amid historically low interest rates on savings.
Romania among fintech aficionados
In Romania, the most popular fintech is Revolut, a platform that has reached almost 1 million customers in our country. Recently, the fintech was valued at USD 5.5 billion after a USD 500 million financing round. "Our mission is to build a global financial platform – a single application through which our users can manage their entire financial lives. The next step for us is launching banking operations in Europe, increasing the number of users who use the app daily and achieving profitability," said Nik Storonsky, the founder and CEO of Revolut.
This year Romanians will also have access to Monese and Paysera, two fintechs that will cover both personal finance as well as corporate needs. They will join a scene that already includes about 40 fintechs, with companies like Pago, beez, mobilPay or Volt having established a presence in Romania.
Investments in Romanian Artificial Intelligence (AI) start-ups will reach EUR 50 million in 2025, according to estimates by management consulting company Horvath & Partners. The level of investments in AI start-ups in the last quarter of 2019 placed Romania near the top of the ranking of countries of Eastern Europe, behind Hungary, Russia, and Poland, but ahead of the Czech Republic, Slovenia or Slovakia. In the last three months of last year, investments in AI start-ups in Romania amounted to around EUR 20 million. Most of the investments went into two fintech start-ups: FintechOS and TypingDNA.
TypingDNA, a startup developing online security solutions based on behavioral biometrics, founded in Oradea, received a funding of USD 7 million, while FintechOS, a Romanian startup doing automated financial technology, received EUR 12.4 million. "We think that the period of extraordinary effervescence on the digitization segment, which we are currently going through, will intensify in the next decade. GDP growth generated by AI and Machine Learning in Europe will amount to EUR 1.5-2 trillion over the next 10 years," said Kurt Weber, the general manager of Horvath & Partners Romania. It is safe to say that the best is yet to come for the fintech industry.