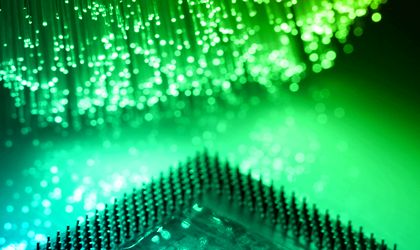 Some EUR 1 billion has been raised by startups in Central and Eastern Europe (CEE) in 2019, with the investment environment for entrepreneurs set to remain dynamic through to 2020. In Romania, funding activity will continue to grow next year, according to market players.
Locally, the largest funding deals of more than EUR 1 million each were recorded by Elrond, TypingDNA, FintechOS and Happy Recruiter. Bucharest led in terms of both the total number of deals and the amount of capital raised in 2019, according to the Eastern Disruptors 2019 report published by How to Web. The report also counts the EUR 516 million raised by UiPath in 2019 as funds attracted in CEE. This funding round alone represents half of the region's total investment. Across the region, there are startups valued at more than USD 1 billion (unicorns) with a combined worth of EUR 30 billion.
"The local investment market will continue to develop – two more Romania-focused VC funds are expected to launch in 2020, while the prospect of finding another UiPath will continue to draw interest from investors mostly from Bulgaria, Poland, the UK, and the US," Bogdan Iordache, founder and chairman of the How to Web Conference, told BR.
Stable outlook for 2020
Going into 2020, he suggested that it was "hard to believe" that funding for startups in CEE countries would exceed EUR 1 billion once again, but we might see bigger series A rounds above EUR 10 million.
In total, there were 38 investments made in local startups, with more than half of the funding raised by firms based in Bucharest. Tech startups continue to hold a large share in the funding ecosystem.
"Unless we see another unicorn originating from the CEE region next year, our expectation is that the 2020 funding environment in CEE will be similar to the one seen in 2019," Sergiu Gidei, partner at law firm CEE Attorneys/Boanta, Gidei si Asociatii, told BR.

"As for the Romanian environment, we believe that next year will bring an important increase of funding for start-ups due to a number of seed/series A rounds envisaged to be raised next year. In our estimation, next year's funding shall amount to EUR 20-25 million (compared to EUR 12.75 million raised in 2019 – according to the Eastern Disruptors Report and assuming that UiPath's series D funding is excluded from the calculation)," Gidei added.
The report points out that startups founded in the fintech, enterprise software, security and health fields raised a large share of funding rounds topping EUR 1 million. The potential for new startups being created in the tech field remains high in Romania if we look at the workforce. Romania has the second biggest number of developers in the CEE region. Of around 1 million developers in CEE, some 118,000 are in Romania, while Poland comes first in with 254,000 developers.
Tech workers are the best paid professional group in Romania, with an average monthly wage of RON 5,851, which is more than EUR 1,220. Senior software developers can earn more than EUR 3,000 from large companies or they can opt to do freelance work for international customers, which means that their incomes can grow even more.
"The challenge is to keep highly skilled labour in the country, and to be able to attract high-performing human capital from abroad in order for investments in the region to grow," Sebastian Pauna, investment analyst at Morphosis Capital, told BR.
Pauna suggested that the bigger funding rounds could be funneled towards Romanian startups as more private equity and venture capital funds have become fully focused on the country.
Record funding period for European tech companies
More than USD 10 billion was invested in European tech companies in the second quarter of 2019, the largest amount ever raised in three months. In the first nine months of 2019, European tech companies raised an average of USD 3.3 billion per month, according to the State of European Tech report.
"The increase in large-scale deals of more than USD 100 million is driving the growth of total capital invested in Europe. In 2019, these deals accounted for 36 percent of all funding raised by European tech companies," analysts wrote in the report.
The industry verticals in which funding for startups have shot up in the past year are security, energy, and food, each with a growth of more than 100 percent. Currently, there are at least 174 European tech companies with a valuation of more than USD 1 billion. Compared to 2010, the number of European unicorns rose 13-fold.
The report further points out that Europe has produced more tech initial public offerings (IPOs) than the US for six consecutive years, including more tech IPOs in the first nine months of 2019.
In the first three quarters of 2019, the top 10 IPOs in the US recorded a combined market cap of USD 153 billion, while for Europe this figure stood at USD 22 billion.
"Though Europe has yet to produce a company that comes close to rivaling the value creation of trillion-dollar market cap companies like Microsoft or Apple, it's often forgotten that Europe has produced more than one USD 100 billion tech company. SAP, Europe's largest public tech company by market cap, has now grown to be valued at more than USD 150 billion," according to the report.
Falling valuations for startup behemoths
Some of the startups that have burned billions of dollars to scale up have started to restructure their operations and seek a profitable path. The likes of Uber and WeWork, which were stars in Silicon Valley, have recorded a combined loss in value of around USD 100 billion in 2019, according to a Wall Street Journal report.
"We are in dot-com bubble 2.0, except it's not happening in the public markets but in the private markets," said Vitaliy Katsenelson, chief executive of Investment Management Associates Inc, quoted by the WSJ.
For instance, flexible workspace provider WeWork saw its valuation drop from USD 47 billion to USD 8 billion in less than one year. Uber's market capitalization shrank by USD 32 billion compared to its IPO valuation in May.
UiPath, the robotic process automation (RPA) startup with Romanian roots, recently announced it would cut some 400 jobs as it seeks to become profitable. The startup, which reached a valuation of USD 7 billion last spring, is planning to go public, according to market reports.