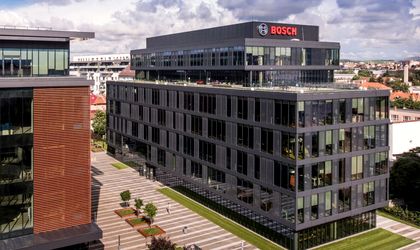 Bosch, leading global supplier of technologies and services, has recently signed a collaboration agreement with Orange Business Services. Bosch Engineering Center Cluj will start testing new features designed for automated vehicles, through Celluar-based Vehicle-to-Everything (C-V2X) communication with the help of 5G technology. C-V2X communication technology is a vital pillar of automated and connected driving.
"We are excited to start this new partnership and I am convinced that our know-how, expertise and state-of-the-art technologies combined, will lead to achieving new, outstanding results related to the connected and automated mobility field", said Cătălin Golban, Head of the Engineering Systems Vision department at the Engineering Center Cluj.
The R&D division in Cluj-Napoca is actively seeking to enhance existing, as well as developing new solutions in the automated and connected driving fields, with the benefits deriving from the 5G technology as one of the points of interest. Thus, the Bosch engineers in Cluj are using test cars equipped with 5G technologies, allowing the transmission and visualization almost in real time of the collected data, significantly facilitating the development process of automated and assisted driving solutions.
The goal of this project is the continuous optimization and innovation based on data collected in real traffic scenarios. This new communication technology facilitates the fast transmission of data from the test vehicles to a central server or cloud infrastructure, thus the engineers working on automated and assisted driving technologies can rapidly process and analyze the information. C-V2X communication based on 5G is one technology that has great potential to meet the demanding conditions of such functionality and to provide the needed data-exchange performance level. Furthermore, the new communication standard allows Bosch engineers or collaborators from anywhere in the world to visualize the data intercepted by the sensors from the test vehicle, such as video, radar, ultrasonic or lidar.
This new project will lead to relevant advancements in the field, for both companies.
"Our collaboration with Bosch marks an important step in the development of Collaborative, Connected and Automated Mobility (CCAM) ecosystem from Romania. With more advanced CCAM services, automated driving is seen as a technological highlight that will shape the future mobility concept and improve quality of modern life by providing traffic safety together with added environmental and information improvements. Connectivity, and more precisely 5G C-V2X communications, is seen as a technological enabler of CCAM services that require a network with high reliability, speed, capacity, and ultra-low latency. Given the extremely low latency of Orange 5G network, vehicles running Bosch developed software can exchange data with the cloud in the shortest time possible, with the help of advanced features such as edge computing and network slicing" states Cristian Patachia, Development & Innovation Manager at Orange Romania and 5G Lab coordinator.
Connected vehicles at the Bosch Engineering Center in Cluj
The development of car connectivity technologies is one of the strategic directions at the Bosch Engineering Center in Cluj. Therefore, exploring the potential brought by 5G technology in this respect is of high interest. At the same time, Engineering Center Cluj develops software and algorithms for processing data from sensors such as radar, video, ultrasonic for assisted and automated driving. In addition, the combination between 5G and sensor technology brings value in the process of innovation and development. With an increased transfer rate and decreased latency, 5G is targeted towards connectivity of both machines and users. It will thus on the one hand enhance product engineering methodology and on the other hand result in advanced features, in particular in the area of driver assistance and automated driving.
The future of mobility: automated driving
At the Engineering Center in Cluj, Bosch contributes in shaping the future of mobility by developing projects in the field of automated and assisted driving. Functions such as automatic emergency braking to avoid collisions with foreign objects such are cars, pedestrians, cyclists and animals, lane keeping or automatic parking can lead to saving lives and it can also improve driving comfort. Complementary to radar or ultrasonic parking sensors, more and more vehicles benefit today from built-in video cameras. These cameras receive information which they then process by means of embedded electronic computing systems. Thus, the video data received from the cameras is processed in real time, using advanced computer vision and artificial intelligence methods, obtaining the positions of traffic objects, vehicles, pedestrians, the position of the car on the traffic lane, the meanings of traffic lights, traffic signs or road markings.
A preview of a connected world
As a leading IoT provider, Bosch offers innovative solutions for smart homes, Industry 4.0, and connected mobility. Connectivity opens up new opportunities for the development and improvement of vehicles, mobility and any kind of services. This makes life safer, more efficient and more convenient. Bosch connects systems and services, inside and outside its value chain, transforming them into intelligent solutions. More and more smart products and services are connected to generate added value for their users. It is estimated that there will be 25 billion connected devices by 2025 compared to only 14.2 billion in 2019.