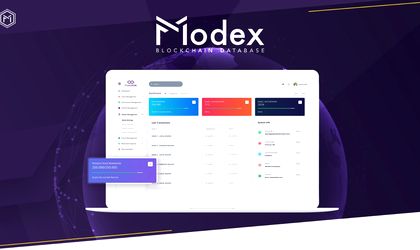 Product Lead formed a new partnership with Modex, the blockchain database company with offices in Bucharest, London, Monaco, Gibraltar and Silicon Valley. So far, Modex has been working with international leaders in banking, oil and gas, energy, healthcare, public administration, and food sectors offering blockchain solutions for enterprise market. With Modex Blockchain Database, businesses can deploy their first blockchain project in matter of days, instead months, getting cost cutting, data security, and time efficiency.  
Through this newly formed collaboration, Product Lead is enabled to expand its suite of martech solutions in the blockchain market for the first time. Both companies challenge themselves to be emerging disruptors at the forefront of their industries. Together they are going to intersect their areas of expertise with the goal of launching groundbreaking solutions unique to the international market.
In the midst of an accelerated growth stage, Modex plans to reinforce its business structure by injecting Product Lead data monitoring solutions directly into its mainframe. This partnership is going to introduce Modex to a data-based strategy that identifies and reports real-time insights. Armed with actionable data, Modex is well equipped to predict industry events and prepare procedures in due time so that no impact affects any of their departments. A big data powerhouse also entails decision-making factors brought at the forefront so that Modex can take back control over their expansion and fortify a business foundation that has so far outgrown expectations.  
Modex is constantly expanding its range of blockchain-related products while planning international events and launching campaigns. This strategy will boast an international reach that comes with its own unique set of challenges, but it will open new windows of opportunity for scalability. For this reason, Modex tapped into the Creative Automation, a Product Lead major feature that automates the creative process across all promotional channels.
Creative Automation streamlines marketing campaigns at scale by generating thousands of ads, stories or web widgets in minutes. The engine mixes clients' visual material and user-generated content and organizes them into templates along with logos, copy, layout, buttons, and other essential marketing elements. In a matter of hours, Product Lead partners secure an incredible conversion power ready to be deployed at every marketing touchpoint. Modex is going to draw on this advanced creatives engine on the days of its new products launch with the goal of an assertive international exposure. 
The blockchain technology managed to sustain and even amplify its gargantuan value in the modern market by branching its solutions into various directions other than cryptocurrencies. Today, blockchain makes itself useful in a generous array of industries such as healthcare, supply chain, cybersecurity, data storage, supply chain, and many others. Modex counts among the first proactive players committed to pushing blockchain into the mainstream so that any business regardless of its industry can tap into advanced technology. 
In order to reflect their innovative approach for their business model as well, both companies agreed on a two-way partnership. As it is, Product Lead welcomed Modex to leave its mark on influencer marketing, a market contiguous with Product Lead's main field. Blockchain has much in store for an online marketing niche in dire need of transparency and security.  
At the moment, the collaboration between brands and content creators also known as influencers is stagnating at a basic level. An innovative yet young niche as it is, influencer marketing lacks a transparent apparatus where communication, transactions, and projects can travel back and forth with zero privacy and authenticity concerns. Through the nature of its martech platform, Product Lead benefits an opening to an audience that is ready to adopt influencer marketing 0.2: eCommerce companies and social media influencers. To accomplish their innovative goals, Product Lead will be testing the Modex BCDB technology within its platform to lay the groundwork for a fully technologized framework where businesses can track, scale, and release funds while the modern advertising experience on social media reduces vulnerabilities to zero.