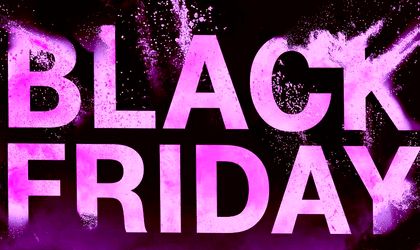 Black Friday in Romania is an event that not just retailers hold, but other companies, too, such as banks or telecom operators. Telekom Romania announces a Black Friday campaign during November 12-25 with discounts up to 75 percent for some smartphones, while Banca Transilvania will have Bank Friday on November 16 with over 7,000 discounts on products and services.
Telekom Romania announced its Black Friday campaign will take place during November 12-25, 2018, with discounts up to 75 percent for more than 100 handsets that can be purchased online, on the company's website, as well as in Telekom and partner stores, along with unlimited national minutes and real unlimited 4G Internet subscriptions starting at EUR 5/month (VAT included).
Thus, customers who choose to purchase online a handset available in the Black Friday offer online through the company's website will benefit from discounts of up to 75 percent, along with the EUR 5/month (VAT included) subscription, including unlimited 4G Internet and no minimum contractual period and no termination fees.
For example, Nokia fans will be able to buy the new Nokia 5.1 Plus, with HD+ display of 5.8 inch and efficient battery due to the Android One operating system, available exclusively at Telekom, at a price of RON 599.
In Telekom and partner stores, the handsets available in the Black Friday offer can be purchased by fixed instalments over 24 months, with no interest and zero upfront payment, together with the unlimited EUR 5 subscription for customers owning fixed Telekom services and EUR 7 for mobile customers.
Among the 4G smartphones that can be purchased by instalments, we can note the Nokia 1 (EUR 1/month instalment, VAT included), iPhone 6S (EUR 10/month instalment, VAT included) or Samsung Galaxy S8 Plus (EUR 20/month instalment, VAT included).
Telekom's Black Friday offer includes handsets from manufacturers such as Samsung, Apple, Nokia, Huawei, Motorola, LG, Sony, HTC, Allview.
Bank Friday
Banca Transilvania launches on Friday, November 16, the online banking campaign BANK Friday, which will run on the BT website, between 8:00 and 23:59. BANK Friday means discounts, gratuities or other benefits to some of bank's products and services: credit, current account credit card, BT24, BT Pay application, and a series of complementary banking solutions for entrepreneurs.
It is the 4th year when Black Friday becomes BANK Friday at Banca Transilvania. Within this campaign, BT has offered over 30,000 promotional products and services, making banking more and more accessible. Every year, initial stocks were exhausted and some were supplemented. The most popular products and services within BANK Friday were: BT24 Internet Banking & Mobile Banking, credit cards, BT Practical Credit, current account credit, deposits and SME loans.
Banca Transilvania is the bank that launched the concept of banking shopping for the first time on the Romanian market. These are thematic campaigns, inspired by the significance of certain dates, events and trends: Bank Friday, Bank to School, DragoBT, Banksylvania, May Workers, BaBeTe, Bankschet and Barber Day.