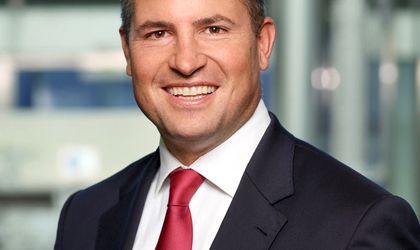 Data is the most important asset today and it will be even more important and valued in the future. This fact is easy to see in the top 10 most valuable companies in the world, as five of them are working with data as their core business, says Dirk Haeussermann, head of Platform & Data Management MEE at SAP.
SAP Now Bucharest 2018, SAP's yearly event, took place at the end of last week. One of the main themes of the event was The Intelligent Enterprise framework, the eco-system the company is working on and offering to clients. BR talked to Dirk Haeussermann, the company's head of Platform & Data Management MEE, to find out more about the technology and what it means for SAP's activity.
"We have introduced a new strategy called Intelligent Enterprise that consists of three components: intelligent applications, digital platform and intelligent technologies. I am responsible for the digital platform, which is collecting, connecting and perfecting all the data fuelled into intelligent technologies like machine learning, artificial intelligence, blockchain, internet of things, etc., so that you can make the applications even better. In this way you can predict more with data analytics," says Haeussermann.
The ecosystem is global and it is already available. "What I discussed with German customers last week I am discussing here with Romanian customers and I also talked about the same thing with Russian customers two weeks ago," says Haeussermann, explaining that the use of technology today is no longer local, but worldwide.
Using technology is not an option for companies. "It is not possible for humans to analyze all the data that is collected. All the data from the last 5,000 year has doubled in the last two years. All of it! Change is happening very fast and it will never be slow again. Now the question is how we will prepare for all this, how we manage it," says Haeussermann.
And technology is still disruptive. Not as much as it was a few years ago, but still disruptive in the sense that data is becoming increasingly important.
"If you look at the top ten most valuable companies of a decade ago, you would find that today only two are still on the list, one of which is Microsoft. Today, five out of ten are companies based on data and the use of data, like Alphabet, Amazon, Facebook, Tencent and Alibaba," says Haeussermann.
Ten years ago, the most valuable company was ExxonMobil, followed by Petro China and Walmart. China Mobile, Bank of China and Microsoft were on the next places and the top was completed by Procter & Gamble, AT&T, Johnson & Johnson and Royal Dutch Shell. Today, Apple is in the lead, followed by Alphabet, Microsoft, Amazon and Tencent Holdings. The last five are Berkshire Hathaway, Alibaba Group, Facebook, JPMorgan Chase and Johnson & Johnson.
"More than half of the top 10 companies are working with data as their core business. It is interesting because on balance sheets you don't find data as an asset, but is still valued very highly. This is the difference from 2-3-5 years ago: we have a lot more data available and we will have a lot more in the future," explains Haeussermann.
So, the future is all about connecting, collecting and analyzing data.
"In the future, not everything will be online, but will have a connection with the online world, with the internet, otherwise it will not successful," says the SAP representative.
"Customers will become more aware of their data, they may even start monetizing their data. Or at least understand what they get in return for data. I rented a car a couple weeks ago and they gave me a piece of paper to sign, saying that I am allowing them to collect all my data in the car. I didn't want to sign, but the guy told me that if I don't sign they will not be able to send me the traffic data."
The amazing thing is how the change is happening without us noticing.
"In 2006 the Football World Cup happened in Germany. And I ask people today, what was the most used app on the phone back then, was it Minecraft, was it something else? And people don't even remember that there was no smartphone back then – the iPhone was released in 2007! Only 12 years have passed and we don't remember what it was like before the smartphone! It is a massive, massive change in just a short period of time," says Haeussermann.
About security
"If data is an asset then it is very important to secure it. Customer data, financial data, development data; all this are very important and we see CEOs fired over the loss of data. We have added Hana technology to our systems in order to secure data. So if you lose the data, it cannot be used because it is encrypted. I mean, it is bad to lose it, but at least no one can use it," says Haeussermann.
"In the future we will see data generating applications, while in the past there were apps generating data. Completely new services and products will come out of the data we collect. The possibilities are fantastic."