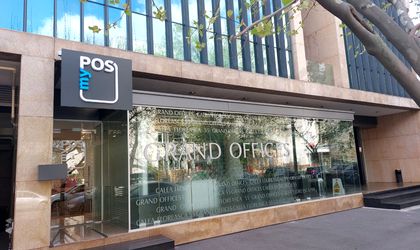 myPOS, the first and only fintech in Europe which offers merchants the possibility of instant settlement of funds at no extra cost, announces the launch of a store in Bucharest, three years after the launch of its omni-channel payment solution for small and medium-sized enterprises (SMEs) in Romania.
The Bucharest store joins a number of myPOS locations across Europe, including those in Amsterdam, Antwerp, Milan, Paris, Rome, Lisbon, London and Vienna. myPOS started in Bulgaria and aims to be present in all major European cities.
"We are already helping merchants in more than 30 countries grow and it's time for more Romanian SMEs to benefit from the latest fintech tools. This is why we recently invested in new spaces and more staff in Romania. More than 4 000 merchants already rely on myPOS because, contrary to our competitors, we are the only payment solution provider that offers instant settlement of funds at no added cost. We also offer total mobility via а free SIM card, which comes with every POS terminal, and via our many solutions and free tools that allow business owners to accept payments anywhere – in-store, online and on the go. Additionally, with myPOS, merchants can receive free advice from our staff in our showrooms", says Laura Pup, myPOS Country Manager for Romania.
The myPOS fintech was launched in 2014 and since then has designed a wide range of payment products and services. The company's portfolio includes affordable multifunctional POS terminals. With a myPOS device, a merchant can accept all payment methods – chip, pin, magnetic and stripe cards from global operators such as Visa, Mastercard, JCB and Amex, as well as European payment schemes including Bancontact and iDEAL. All myPOS terminals are equipped with a free data card designed exclusively for these devices, providing 24/7/365 mobile connectivity.
"myPOS is accelerating its expansion with the objective of being present in all major European cities. We aim to be closer to our merchants; furthermore, Bucharest is one of the emerging markets for card payments in Europe, so it was logical to expand our presence here. We also strive to give all businesses, regardless of their size, a chance to use new technologies and solve payment challenges quickly. We do that by offering a business platform with all the tools needed to get your money in seconds, manage funds with a merchant account, track payments on the go with a mobile app, pay company expenses with a free business card and much more. myPOS can certainly help Romanian businesses simplify their daily operations and accelerate their growth", says Maxim Kochnev, CFO of myPOS.
More merchants are choosing myPOS and this is evidenced by the company's trading terminals. In Romania, for the first three months this year, the number of used terminals increased by nearly 70%. myPOS expects the terminals operated by the company in the country to surpass 5 000 soon. Transactions on the myPOS platform also increased by 75 percent YoY to reach €2.5 bn.
With the opening of the Bucharest store and the expansion of its office, which is managed by the Romanian native Laura Pup, who joined the team at the beginning of 2022, myPOS is strengthening its presence on the local market. In the myPOS store, located in the Grand Offices Building on Calea Floreasca 55, Laura Pup invites business owners to experience first-hand the variety of cashless payment solutions and consultations offered by the local team from Monday to Friday, from 9:00 to 18:00, free of charge.