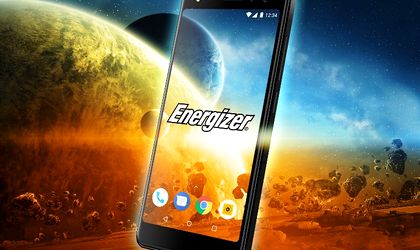 Avenir Telecom launches 8 new models of Energizer phones on the Romanian market and reaches 18 models on the local market, 7 feature phones and 11 smartphones. The terminals are sold through 11 partner networks and online stores within Internity's own shops.
The newly introduced models in the portfolio have, as usual, a long battery life and are offered to end users along with protection accessories to the highest quality standards. The phones are designed for active users who want high-end, high performance endurance, performance, high-end features, but at a better price.
The new handsets completes the series launched in February, Power Max, Hardcase and Energy, are supposed to strengthen Energizer's market position and are designed to better meet the needs of end-users.
The Power Max series gets the new Power Max P490S, Power Max P490 and Power Max P20 models. The star is the Energizer Power Max P490S, the first 4G smartphone with a 4.95-inch screen and a 18: 9 aspect ratio. The phone has one powerful 4,000 mAh battery on the market, 4 cameras (two on the front and two on the back) and features a fingerprint release function.
Model users do not have to worry about running out of battery, as it may take up to 16 days in standby mode and offer up to 10 hours of continuous use. The phone is dual SIM and features a dedicated slot for SD cards up to 32GB.
The phone is also equipped with a proximity sensor that detects the change of distance between the phone and other objects and an accelerometer (sensor) that detects how the phone is held, its position and its speed.
Power Max P20 – telephone and power bank
Power Max P20 is a feature phone with a large battery that can also be used as a power bank to charge other phones.
The new model has a 4,000 mAh battery designed to provide 40 hours of talk time (continuous use) and up to 31 days in standby mode. Ease of use and compact, the model has a thickness of 17.5 mm and a width of 55 mm, the screen having a diagonal of 2.8 inches. The device's camera is VGA (basic) and can capture images of the most important moments of the day. The phone has FM Radio, a dedicated slot for cards up to 32GB and allows you to store and play audio files in MP3 format.
Hardcase series is completed by Energy 100, a powerful and compact, dual-SIM, IP-54 certified phone that protects it from splashing, dust and shocks, leaving the phone intact from a distance of up to 0.8 meters.
Energy 100 is a phone that users can rely on with a battery that provides up to 11 hours of continuous talk and can last up to 300 hours in standby mode. The model is perfect for both less experienced users and those who are used to the Android operating system. The 2.4-inch display is suitable for people looking for an easy-to-use phone that can be used with just one hand in almost every situation.
The Energy range is complemented by four new models: Energy E500, Energy E500S, Energy E10 + and Energy E11. All phones come with protective fittings, such as safety glass and anti-shock housing.
Among the new models introduced in the Energy range is the E500S, a dual SIM that runs an Android 8.0 (Oreo) operating system. It is ultra slim, with a thickness of 8.6 mm, offers a storage capacity of 8 GB, which can be extended by a MicroSD card of up to 64 GB, and the battery ensures operation of the phone for up to 200 hours in the stand-by and up to 6 hours of continuous use. The two chambers, one on the back (8MP) and the one on the front (5MP), offer a pleasant experience to users who want to capture their favorite moments.
Energizer mobile phones are currently available at: Flanco, eMAG, Altex, Media Galaxy, EuroGSM, evoMAG, Cel.ro, Elefant.ro, PCGarage.ro, Auchan and Bayern Mobile Solution.