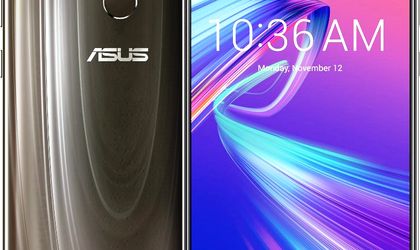 Asus Zenfone Max Pro (M2) is available in Romania at prices around RON 1,400. The next generation of M1 remains a price-competitive model with good performance, higher autonomy and better cameras. ZenFone Max Pro (M2) takes over the well-known performance of the Qualcomm Snapdragon 660 mobile platform for a fast response, a massive 5000mAh battery and Corning Gorilla Glass 6 glass.
The camera system, supported by AI and a top-of-the-range Sony sensor, captures fantastic photos no matter what frame – day or night, portrait or scenario – without the need for user intervention. ZenFone Max Pro (M2) is a durable and intelligent companion with a premium design and new Wave finishes that captures your eyes. The phone integrates NFC support and has a three-slot drawer combining two SIM slots with a microSD card slot to extend storage up to 2TB.
The ZenFone Max Pro (M2) is based on the 14nm Qualcomm Snapdragon 660 mobile platform, incorporating the Qualcomm AI Engine for performance and energy efficiency. Combined with up to 6GB of RAM, this processor is up to 11 percent faster than the previous generation, and graphics performance is dramatically improved by up to 33 percent for near-real-world visuals and fast 3D rendering.
Significant autonomy is the signature of the ZenFone Max series. Despite the slim design, the ZenFone Max Pro (M2) integrates a 5000mAH endurance battery, offering up to 35 days of 4G and 45 hours of talk time in 3G calls. Users can play on the phone for up to 10 hours, enjoy Youtube videos for up to 19 hours, or surf online via Wi-Fi for up to 23 hours.
Also, M2 is the first phone in its class to use the newest Corning Gorilla Glass 6 premium glass that is designed to survive a 1 meter fall on a hard surface and is twice as good as previous generation Gorilla Glass 5.
"The phone is a key gateway to our digital lives and we interact with our devices on average over 2000 times a day," said Scott Forester, vice president of marketing and Innovation Products Division, Gorilla Glass. "Corning researchers have shown that users on average experience the most accidental hip drops or lower height on average up to seven times a year. So we are pleased to work with ASUS for ZenFone Max Pro (M2), designed with Corning Gorilla Glass 6."
Top camera
The ZenFone Max Pro (M2) dual dual camera system is the most advanced system on the ZenFone Max series. It has the same features as the ZenFone 5 series.
The Dual Camera System uses an incredibly sensitive, high-resolution Sony IMX486 sensor with 1.9 times the brightness sensitivity5, allowing the ZenFone Max Pro (M2) to capture the image of any subject and capture more realistic photos at any time whether it's night or day. Phase-detection Autofocus (PDAF) and Electronic Image Stabilizer (EIS) attenuate camera shake to avoid blurred images by focusing accurately on any subject in a snap. For beautiful portraits and views, the second room on the ZenFone Max Pro (M2) uses depth-detection technology to create an artistic "bokeh" effect by placing the subject in focus precisely while blurring the background for an effect discreet but powerful, which puts the subject to the forefront.
Maximum entertainment
The 6.3 inch FHD + (2280 x 1080 pixels has a 19: 9 aspect ratio that delivers even more immersive entertainment. 94 percent of the NTSC color spectrum, with 450cd / mp brightness and 1500: 1 contrast, with crisp and crisp images. For a great audio experience, the ZenFone Max Pro (M2) uses a five-magnet speaker with a metal bobbin powered by a powerful NXP low-distortion amplifier that delivers powerful, detailed sound.
M2 is the first ZenFone to have to Wave finishes – a dynamic and refined optical effect created by using a 16-layer coating – being attractive from any angle, highlighting reflections and light games. The curved 3D design from the back is not only comfortable but also stylish. For more connections and more storage space, the ZenFone Max Pro (M2) features a triple drawer combining two 4G LTE (dual SIM / dual standby) SIM slots with a microSD slot allowing storage up to 2TB . ZenFone Max Pro (M2) also supports NFC to make mobile payments in a convenient way.