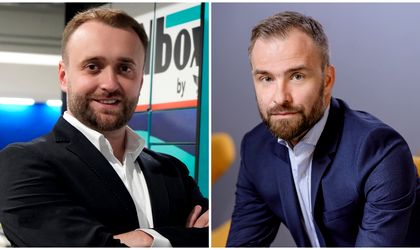 Logistics automation has required increasingly efficient solutions as a result of the development of delivery services, along with the increase in online sales. One of these solutions, the ARKA Smart Parcel Locker, developed by ARKA, uses a complex advanced software developed  in partnership with Stefanini EMEA.
By Aurel Constantin
ARKA offers a Smart Parcel Locker solution which is increasing the efficiency of courier delivery processes and offer new innovative approaches thru the Agnostic Software. The Smart Parcel Locker is a reliable solution, designed to meet the challenges of the courier industry, leading by innovation.
"ARKA hardware has been devised to revolutionize the consumer experience when it comes to parcel delivery. The solution is a physical device which can be customized according to the client's requirements. The standard solution is roughly two meters high, with a width of at least two meters, and contains a touch screen and multiple drawers, each with a depth up to one meter. The drawers offer minimum three different sizes to optimally accommodate various types of parcels. In addition to the touch screen, there is a QR code scanner, a POS that allows card payments, and minimum two security IP video cameras. The platform allows parcels to be delivered without any direct interaction between the courier and the client, offering a more flexible and quicker process. The lockers are distributed all over the country, in dense populated areas assure a high efficiency for the last mile parcel delivery. Couriers can drop off several parcels at once, while customers can pick them up at any time – and can even use the solution to return parcels," explains Cezar Frincu, CTO of ARKA.
"The initial solution was developed over six months, during a process that consisted of an analysis stage, a development stage, and a testing stage. The process also involved co-creation involving multiple parties and represented an excellent combination of design thinking and hardware and software expertise. The platform is constantly evolving, as we add various additional features," says Bogdan Burdalescu, Software Architect at Stefanini EMEA.
The platform completely decouples parcel delivery from parcel collection, while also offering a simple way to manage deliveries in different geographies. It also optimizes tasks and enables the commercial partners of the courier company to make deliveries directly to lockers, without having to pay for external couriers.
Stefanini has previously created a predictability application and personal digital assistant for the courier industry and this provided valuable experience during the engagement with ARKA.
"Our experience in this sector meant we were able to fully understand the internal processes that exist within the business, which allowed us to optimize the architecture and business logic of the application," says Bogdan Burdalescu.
"ARKA's full development process is leading to impressive results and we are pleased to reveal that Stefanini will fully cover our software requirements," adds Lucian Ulmanu, CEO, ARKA.
Stefanini, growing across EMEA
"Stefanini is a USD 1 billion global technology company that has sustained a double-digit growth rate year after year. Our aim is to double our turnover in EMEA over the next three years. At the same time, we'll continue our policy of diversifying our portfolio of services, especially in the digital technologies area. We are also considering possible acquisitions across EMEA," says Florin Stefan, Application Development Director at Stefanini EMEA.
With a 30-year history, Stefanini has managed to navigate multiple political, social and economic crises and even managed to grow during these. "Crises are undoubtedly difficult moments, but at the same time, they can offer opportunities. When you provide high-value services, supplier-client relationships are transformed into true partnerships in which value and the end-user experience is maximized. It's thanks to the strength of these partnerships that we believe we can withstand any disruption and look to the future with optimism," says Florin Stefan.
Stefanini's experience ranges from building custom-developed solutions to providing maintenance services for an IT portfolio. This experience combined with a proprietary approach to building digital products created the grounds for a successful implementation with ARKA.
"The digital revolution has caused a paradigm shift, which is why we believe every company should embrace the processes of changing and adapting to new technologies in order to remain relevant in their field. We envision innovation to be the driving factor in most projects developed by ARKA in the coming years," says Lucian Ulmanu.