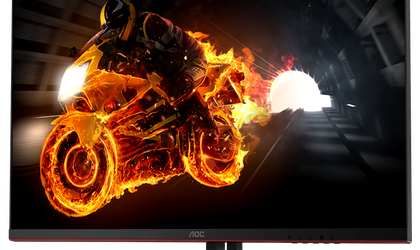 AOC adds more pixels to the G1 range display with the new 31.5-inch (80 cm) CQ32G1. Dedicated to casual gamers looking for exciting gaming experiences, the new model raises the 2560×1440 pixel high resolution bar and features a 144 Hz refresh rate, a 1ms response time and AMD FreeSync technology.
Delivering fidelity due to the QHD resolution, the 31.5-inch wide display and the 1800R curve angle, the monitor adds another level of gaming experience. AOC CQ32G1 will be available in Romania at the end of February at a recommended price of RON 1,859
AOC CQ32G1 is equipped with a 31.5-inch (80 cm) VA panel, a 144 Hz freshening rate and a 1 ms response time. Thanks to the QHD resolution, gamers benefit from one of the best display resolutions, making the image clear and easy to experience without requiring scaling.
Very narrow frames (2 mm) and borderless design make the CQ32G1 monitor an excellent candidate for a multi-screen configuration. The borderless panel is complemented by a V-shaped bracket made from a textured material with red and black accents. Physical immersion is possible through the 1800R curve angle. Feeling connected with the game is also possible due to the lack of visual artefacts, rendering errors and obscurable defocusations thanks to AMD FreeSync technology, which provides support for variable refresh rates.
Visual content – images, movies, videos and games – is brought to life with a 3000: 1 contrast ratio and 124 percent sRGB. The large screen size and extended viewing angles of 178 ° / 178 ° make it possible to use it simultaneously by several people. For quick connection of multiple sources, the monitor has 2 HDMI 1.4 and 1 DisplayPort 1.2 inputs.
FlickerFree and LowBlue mode allow extended gaming sessions without eye discomfort (although moderate use is recommended). To distinguish opponents in the game, gamers can adjust color saturation and 20-level gray tones with Game Color. AOC Dial Point (an on-screen indicator for better targeting) provides greater accuracy.
In addition to the CQ32G1, the G1 Series still has three models: C24G1 with a 24-inch screen, C27G1 with a 27-inch screen and C32G1 with a 32-inch screen. All three models feature curved VA panels with a 16: 9 aspect ratio, a 144 Hz refresh rate, 1ms MPRT response time, FreeSync, and a full-HD 1920×1080 resolution.
The AOC CQ32G1 will be available from the end of February at a recommended price of RON 1,859.