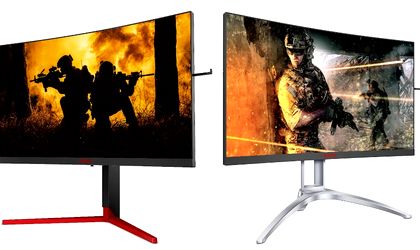 AOC introduces the new AGON Series performance gaming monitors at Gamescom 2018 that will be held at the Koln Exhibition Center in Germany. The new range of AGON 3 displays has an award-winning design and will be launched with two models of 27-inch QHD curved monitors: AG273QCX with FreeSync 2 HDR and PC-VESA Display HDR 400, 1ms MPRT, 144Hz refresh rate and AG273QCG with G-SYNC support, 1ms GtG latency and 165hz refresh rate.
The AOC series of AGON monitors has been highly appreciated by professional gamers in numerous competitions since their debut in 2016, with monitors like the AG271QX and the AG271QG, which featured a 144Hz, FreeSync and G-Sync refresh rate, or monitors like AG251FZ and AG251FG, with a refresh rate of 240 Hz.
AOC AGON 3, the new range of monitors, boasts a highly acclaimed 1800R bend, and a 3-sided frame design. Designed to be used in LAN competitions or large gaming conventions, the AGON 3 monitors come with a click mechanism to be assembled more efficiently and with a built-in handle in the stand for easier handling.
The new angular design of the V-shaped bracket takes up less office space and offers ergonomically adjustable height and side adjustments. The AGON Game Lights, the AGON Game Pad's new AGON Game Pad controller and the popular headphone support, both now and again, offer more the flexibility of the new design approaching the AGON 3 range. Thanks to its amazing design, the AG273QCG has won the Red Dot Design Award 2018.
Upgrade to an advanced level
The new AOC monitors bring not only a refreshed visual image but also new display technologies, the latest innovations, and all the necessary improvements that gamers need.
In terms of features, the 27-inch AG273QCX model with FreeSync 2 HDR comes equipped with a VA curved panel, native QHD resolution (2560×1440), 144Hz refresh rate, 4ms GtG / 1ms MPRT latency and a wide range of colors with a 90% DCI-P3 coating. Featuring the PC-VESA Display HDR 400 standard, the AG273QCX delivers a maximum of 400 cd / m² brightness and high dynamic range (HDR) content to get captivating and realistic gaming sessions. Thanks to AMD Radeon Freesync 2 HDR technology, visual content can be played directly from the native color gamut of the monitor and the degree of illumination so as to preserve HDR image quality while avoiding inefficient rendering of color tones and retaining low latency.
The AG273QCG is equipped with a 27-inch TN panel with native resolution QHD (2560×1440), 165HZ refresh rate, 1 GtG latency, 400 cd / m² brightness and NVIDIA G-SYNC technology.
AOC offers many improvements that gamers could get by using additional software tools. One of the improvements is represented by the AOC Dial Point feature that displays a target on the screen to give users the ability to target more easily, even in FPS games. Players can also set a Frame Per Second timer on one of the 4 corners of the monitor without the need for a GPU or console for additional commands.
Thanks to AOC Game Color, users can increase or decrease image saturation according to preferences to achieve optimal levels of gray and detail of images without the need for shadow enhancements or color intensities in the graphics settings of the graphics card. All of these functions can be changed easily using the QuickSwitch controller with a new design. Both monitors come equipped with eye-protection technologies and physical comfort features such as Flicker-Free technology and Blue Light mode.
The AOC AGON AG273QCG (G-SYNC) will be available in Europe in November 2018 and the AOC AGON AG273QCX (Freesync 2 HDR) model in December 2018.