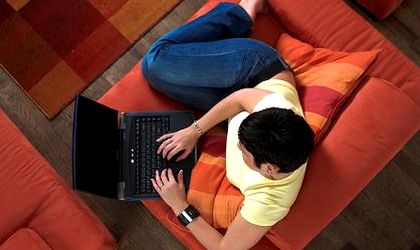 As younger, tech-savvy employees with greater mobility expectations join the local workforce, organizations are being rudely awakened to a new challenge: the adoption of an ever-increasing array of mobile devices and applications while also meeting mobile security needs.
Otilia Haraga
"The great challenge lies in the company's ability to keep intact the team spirit, the feeling of belonging to a group and sharing a corporate culture. However, the new generation, which is used to interacting via virtual channels, seems to be adapting to this work model without a glitch," Iulia Iliescu, HR manager at Alcatel-Lucent Romania, tells BR.
What mobility means today is that the information necessary to the employees can be accessed anytime, anywhere, via any device.
As many as 73 percent of the respondents to a survey carried out by Cisco among participants at Cisco Expo 2011 said they use two-three gadgets during a regular day's work while 11 percent said they use more than five.
Furthermore, 78 percent of respondents believe they do not need to be present at the office every day. Some 43 percent of the interviewees said they do not need to be at their workplace in person to work efficiently. Another 36 percent of respondents said they only sometimes need to attend the office, to take part in meetings and complete certain tasks. And just 21 percent said they must be at the office and need daily interaction, in person, with their colleagues.
The trends highlighted by the survey carried out in Romania are in line with the findings of a Cisco global survey from 2010, which reveals that 60 percent of employees think their presence at the office is no longer necessary for them to be productive.
This means organizations have an issue on their hands: how to "juggle" the labor market trends and the need to support an explosion of new gadgets while also making sure crucial data is not leaked in the process.
Security was identified as the main challenge a company has to face when dealing with mobile employees by 63 percent of the respondents to the Cisco Romania survey. Other requirements are maintaining the corporate culture, cited by 28 percent of interviewees, and insufficient budget for IT investments, flagged up by 22 percent.
Of course, certain companies will never allow their teams to work offsite. Which ones? "The kind that have a metal detector at the entrance and check anyone going in or out of the building to see if they are carrying data storage devices," Florin Dumitrescu, software architect consultant at Ducons Software Consulting, tells Business Review.
It also depends a lot on the type of job in question. "In some cases when people rely on cooperation with other team members, the work-from-home concept reaches its limits. But in general, we support it," Alexander Weigl, director of GeBOC Center in HP Romania, tells BR.
He gives some examples. "When we provide support for a sales organization and analyze data, giving them updates on sales reports – where they stand versus the targets – that is a job where employees can work from home," he says.
Another work-from-home scenario applies to senior project managers in charge of European or worldwide projects. "For those people it is even more convenient to work from home if they need to bridge time zones," adds the director.
Alcatel-Lucent has also adopted this system. "This way of working applies to nearly all our employees, both those involved in activities involving direct interaction with clients such as sales and post-sales activity, but also others such as software development or support functions," says Iliescu. The company will implement a pilot project allowing employees to work from home in line with the model already in place in other countries.
Approximately 35 percent of employees working for Microsoft Romania are completely mobile. Positions in sales, marketing, as well as some of those in the services area completely fit this new way of seeing work. Nearly any domain is open to teleworking – from medicine to IT, Cosmin Bordea, country HR manager, tells BR.
A deciding factor is how much experience employees have under their belt. "Entry-level employees might need supervision from team leaders and can benefit from direct interaction with more experienced colleagues," says Dumitrescu.
And it's not all about convenience for the employee. Companies can benefit from the lower expenses for office space. When keeping a smaller team on-site, they are able to better control operational costs.
"People working in technical support, consultancy and pre-sales use offices less, and their presence at the office is necessary only for meetings that cannot (yet) take place online. In multinationals, there's already a practice to allot one single office to more employees just for this reason," Liviu Bratu, CTO of New Tech Consulting, tells BR.
The majority of the respondents to the Cisco study (80 percent) said they can access the company's network using virtual private networks (VPNs).
This is in fact the most common way of securely accessing a company's network, and easy to set up. It enables a remote computer to behave as if it were part of the company's local network, say pundits. Roughly the same number (77 percent) use IP telephony.
Other employees have access to e-mail via their mobile handset (54 percent), just over half (52 percent) resort to instant messaging while some (47 percent) use a softphone solution based on PC.
A company may also adopt various web applications through which employees can perform tasks directly from the web browser, which also offers the advantage that it can be used from mobile devices like smartphones or tablets.
Depending on the field in which a company is active, additional software tools might be used, like conferencing, centralized document management, desktop sharing, source control applications and the list goes on.
"In some cases when people rely on cooperation with other team members, the work-from-home concept reaches its limits," Alexander Weigl, director of the GeBoc Center at HP Romania.