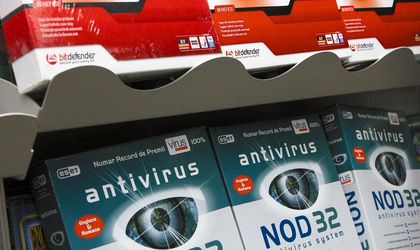 The anti-virus software market is currently worth about USD 16 million. The recession is biting into the profits of security solutions players owing to a slump in the sale of new PCs, say players. 2010 will be yet another difficult year for them, with only slight growth. Business Review surveys some of the worst malware threats that are pervasive and ready to hit the computers of unsuspecting users at any time, as identified by pundits in the field.
Otilia Haraga
Worth mentioning on the list of "most-wanted" viruses is the Palevo worm. Responsible for recent malware attacks in May, it has spread over the last few days via a huge wave of spam generated automatically on instant messaging platforms, according to Razvan Valceanu, country manager for BitDefender Romania.
The virus works in the following way: unsolicited messages invite users to click on a link that purports to lead them to a photo gallery. However, rather than getting to that image gallery, users are tricked
into downloading a file which
hides an informatics threat: the Worm.P2P.Palevo.D.
Also on the list of recent attacks is one that has been doing the rounds since April. Trojan.AutorunInf.Gen spreads through external storage devices and through the shared system of Windows directories, Valceanu adds.
Attacks from this virus made up just under 10 percent of the total of malware infections in Romania for the third month in a row. This indicates that portable memory devices are used on a large scale and their owners are not yet aware of the danger they are exposed to when they use them.
According to data from Kaspersky representatives, the most widespread and dangerous viruses in Romania are Kido (also known as Conficker) and Sality, which spreads through USB-flash type devices and infected web pages. Another dangerous and pervasive virus is IRCBot, which has attracted media attention lately as it is a Trojan that sends infected links under the name image.php through Yahoo or Microsoft Messenger.
"The complete name of the Trojan is Backdoor.Win32.IRCBot.owi. The first version of this Trojan was added to our databases on April 29," says Teodor Cimpoesu, general manager of Kaspersky Lab Romania.
Whereas both home users and companies have anti-virus needs, the two parties have different aims in sight when they pick a security solution.
The main priority for companies is to protect confidential information. Fraud, identity theft, un-loyal competition, corporate sabotage and sabotage of new product launches are just a few of the attacks
cyber criminals mount against companies.
"Each piece of information from the company's database, contact details of clients or the history of bank transactions are enough for someone to assume a false identity and use this information for illegal purposes," says Valceanu.
The individual Romanian user, meanwhile, wants a security solution with an excellent detection rate so that he or she is protected in real time against viruses and can fully enjoy surfing the internet.
The product should be easy to use and easy to install so the user does not have to interact too often with it.
Also, both residential users and companies look for assistance and technical support for the products they use round the clock.
"We do not have exact data but there are residential users who go for free anti-virus solutions," says Valceanu.
The value of the anti-virus market is about USD 16 million. It is labeled by IDC as Endpoint Security, a category that belongs to Secure Content and Threat Management (SCTM).
"Generally speaking, the level of the IT security market in Romania is influenced to some extent by changes that take place in the economy but it is relatively stable as companies make securing digital, personal and company assets a priority," says Cimpoesu.
He agrees that in relation "strictly to the consumer market, a drop in the sale of PCs can have an impact on security solutions, but we must not forget that there are other sub-segments that are growing, such as netbooks."
"Given the recent development of the Romanian economy, it would be very good if we saw a 3-5 percent growth compared to last year," says Cimpoesu.
The decline in computer sales will indeed be reflected in the sales of anti-virus products, says Valceanu.
"However, given the growth trend of malware lately, the installation of a security solution both for residential users and for companies is compulsory to protect data and confidential information. In terms of figures, we estimate that in 2010 we will have a slight growth compared to 2009," he says.
Nevertheless, due to the current economic conditions, no growth in sales will be obvious. "2010 will be yet another difficult year," says Valceanu.
In 2010, BitDefender aims to continue to expand on external markets. At the moment, BitDefender products are sold in over 160 countries.
"This is a continuous process, and the final aim is to increase our market share on each of these markets. On the Romanian market, BitDefender is market leader, with an estimated market share of 40 percent," says Valceanu.
The remaining market share is split among various players such as Kaspersky and Symantec (Norton anti-virus products) and Axel Soft IT (which distributes ESET Smart Security and ESET NOD32 Antivirus) but neither would disclose their results.