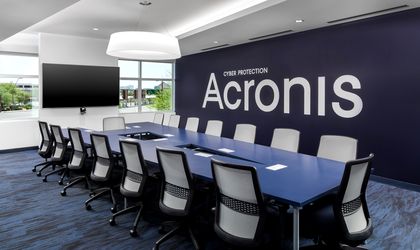 Acronis, a global leader in cyber protection, today announced a new office opening in Bucharest. Located in Orhideea Towers — an office building in one of the most prestigious business areas of the city — and led by Cristian Manea, the Romanian team will support global Acronis development, raise the service level for local customers, and help the company to establish a deeper presence in the Balkans with top-tier cyber protection solutions.
"We have successfully opened a new office despite pandemic limitations. Now we are going to expand our operations in the region and leverage new resources for our global growth. Acronis has already provided the market with unique, easy-to-use protection solutions like Acronis Cyber Protect, Acronis Cyber Cloud, and others. And I'm sure that our new team in Romania will help the company in developing new breakthrough technologies and better serving local clients," said Ivan Doudin, Acronis Regional Director of Sales.

Ivan Doudin, Regional Sales Director at Acronis
The Bucharest office starts with 60 existing Acronis employees already based in Romania. Like Acronis' recently-opened R&D center in Sofia, the new Bucharest office is planned to grow and become a focal point for the development and localization of highly-demanded products and technologies.
Modern technologies are designed to save all data in any environment, including physical, virtual, cloud, and mobile. Integrating best-of-breed data protection solutions with AI-enhanced cybersecurity, Acronis' solutions provide comprehensive protection for home workers and distributed networks, and are built to handle all forms of modern cyberthreats. In 2020, Acronis saved clients from hundreds of millions of dollars in financial losses. With the opening of the Bucharest office, local service and support is now available to Romanian clients of all sizes — from personal users to international corporations.