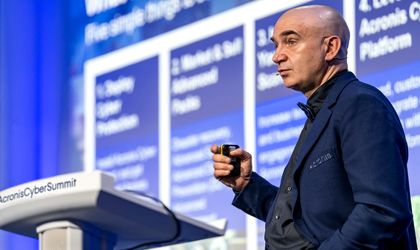 Acronis, a global leader in cyber protection, concluded the Acronis Global Hybrid Cyber Summit 2020, which attracted more than 9,500 professionals from around the world who are interested in the latest strategies and technological advances in the field of cyber protection, including 1,175 people who were trained on how to effectively deploy and sell these technologies through the newly expanded Acronis #CyberFit Academy.
Offered as a free virtual event from October 19-21, this year's Hybrid Summit featured more than 150 thought leaders, cybersecurity experts, channel professionals, industry executives, and sports stars who led 60 sessions. Starting October 22, the 2020 Summit's entire program has been publicly available for free until December 20 via an on-demand video stream.
Presenting from Acronis HQ in Schaffhausen, Acronis Founder and CEO Serguei "SB" Beloussov said: "Today's challenges of remote work, IT demands, and cyberthreats have driven tremendous interest in the solutions and opportunities that comprehensive cyber protection delivers – both to businesses and the service providers who support them. The success of the 2020 Summit illustrates this thirst for knowledge, as IT channel and IT team professionals joined the Acronis community to gain actionable insights, solutions, and strategies they could immediately put into practice. We are proud to have delivered such a helpful, informational event."
All live sessions were also recorded and are now available on-demand on the Summit platform.
Long-term impact of COVID-19 on IT
While many organizations entered 2020 with no plans to migrate to cloud-based solutions or enabling remote work for their staff, the COVID-19 response made those moves mandatory. As a result, a common theme that ran throughout the Summit was how the recent changes driven by the global pandemic will impact the future of IT and cybersecurity.
The challenges and opportunities created by this new normal were explored in each of the four conference tracks, which were dedicated to the IT Channel, Enterprise IT, Developers and ISVs, and Marketing and Sales Professionals. Regardless of the track, there were participants who were eager to know the long-term impact of the pandemic.
Candid Wüest, Vice President of Cyber Protection Research at Acronis, cautioned IT teams and service providers should "make no mistake. Attackers already know where the interesting data is and they are prepared to strike into the cloud and strike into those new services." As a result cybersecurity, data protection, and endpoint protection management capabilities need to be integrated to deliver the security needed in this new digital world.
In his keynote, cybersecurity visionary Rene Bonvanie, formerly of Palo Alto Networks, noted that new tools like AI, automation, and integration are the only way to counter the firepower of today's cybercriminals, which creates opportunities for the Summit attendees who embrace this new approach. Current trends in cybersecurity, he said, should be prompting Acronis partners to rethink how they defend their customers as well as how they sell and market their solutions.
Interactive Summit experience
While the Acronis Global Cyber Summit delivered as a virtual this year, it was designed to provide as much of an in-person experience as possible, with activities and resources that encouraged the kind of peer-to-peer interactions and community-building networking opportunities that attendees enjoy at traditional, on-site conferences.
Both the IT Channel Lounge and Developers Hub, for example, enabled attendees to connect with peers and experts from around the world for in-depth discussions about the challenges they face, the solutions they rely on, and more.
The Women in Tech session, moderated by international broadcast journalist, formerly CNN Money CH, Ana Maria Montero, provided female tech professionals with a chance to learn from the current generation of female tech leaders about how to navigate the dynamics of power and influence, while developing a strong business network so they can succeed in this uniquely challenging field.
For the second year, the Acronis Partner Awards were a featured event at the Summit. The company recognized the organizations that are advancing the cyber protection era around the world – ensuring businesses and markets everywhere are comprehensively protected. The list of 2020 award winners is available here.
This year's Summit also included unique opportunities for attendees to journey to a world-famous chef's kitchen, an acclaimed Italian winery, a historic Swiss watchmaker's facilities, and the Arsenal Football Club's pitch – all from the comfort of their own home office.
Major announcements from the Acronis roadmap
Acronis delivered three major announcements regarding the company's future during the event: